Stories tagged with
fix-it-first
Click on a story title to read that post. Posts are ordered chronologically from newest to oldest.
Perhaps next time the 70,000 deficient bridges should lead the speech?
February 21, 2013
By Stephen Lee Davis
The White House put out a press release on the President's plan for infrastructure that was introduced at the State of the Union last week, and though it's still short on details, it does start to paint a picture of what the President intends. The three major thrusts of the plan are investing in a "fix-it-first" policy, attracting private investment through a "Rebuild America Partnership", and a plan to cut red tape and speed up the timeframe for transportation projects.
A closer look at the Senate's MAP-21: state of good repair
December 13, 2011
By Stephen Lee Davis
We're kicking off a short series of posts looking at some of the specific provisions in the Senate's MAP-21 proposal over the coming days and weeks, as well as some of the proposed amendments in play. The Senate's Environment and Public Works Committee has jurisdiction over highways and controls what usually amounts to about 80 percent of the bill's total investments — though that spending also covers freight, biking and walking, and air quality, for example. MAP-21 was approved in the EPW committee on November 9th.
Closure of Ohio River Bridge Highlights Need for Robust Investment in Infrastructure
September 15, 2011
By Transportation for America
Indiana Governor Mitch Daniels's prudent decision to close the 49-year-old Sherman Minton bridge over the Ohio River between Louisville, Kentucky and New Albany, Indiana last Friday after cracks were found in support girders, is powerful evidence that our country's infrastructure needs cross both party lines and state lines and that we need strong federal investments in fixing our country's infrastructure.
Senate committee due to release bill next week, must prioritize repair
June 17, 2011
By Stephen Lee Davis
We've heard that the Senate Environment and Public Works Committee is releasing their portion of the transportation bill next week. (Though as Tanya Snyder at Streetsblog pointed out, they promised it would be released in two weeks, three weeks ago.) There's a vital piece of policy that must be included in the Senate bill next [...]
Newspaper editorial boards urge action on repairing bridges
April 4, 2011
By Stephen Lee Davis
In the days since our comprehensive bridge report (The Fix We're In) was released, at least one governor has promised action, and several newspaper editorials have urged their states to prioritize repair and address the growing backlog of deficient bridges.
New report assessing the condition of our nation's bridges coming Wednesday
March 28, 2011
By Stephen Lee Davis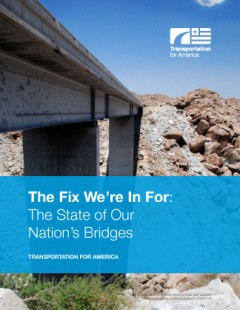 A new report being released Wednesday by T4 America chronicles the state of our nation's bridges, with accompanying data and reports for all 50 states and the District of Columbia. Our country is facing a backlog of deficient bridges that need repairs and maintenance to stay open and safe, with needs far greater than what we're currently spending. So what's the state of our nation's bridges? Check back Wednesday for the answer.
Americans want Congress to 'fix it first', invest in and improve our transportation system
February 14, 2011
By Stephen Lee Davis
In the midst of the fervor about the House's budget resolution for 2011 released Friday, and the President's budget proposal for 2012 dominating the news this week, a new bipartisan poll from the Rockefeller Foundation contains compelling arguments from a majority of Americans in favor of more investment in transportation.
President Obama proposes $556 billion, six-year federal transportation program
February 14, 2011
By Sean Barry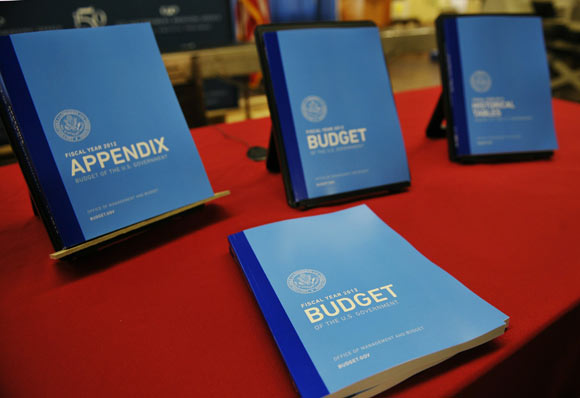 President Obama released a budget for fiscal year 2012 this morning that includes a significant boost to our nation's infrastructure and a long-overdue emphasis on options and accountability. The $556 billion, six-year proposal is an ambitious standout in a largely sober blueprint.
Letter to Speaker Pelosi with principles for transportation spending
December 2, 2009
By Stephen Lee Davis
In light of discussions in Congress about a potential bill focused specifically on creating jobs, and President Obama convening a jobs summit this week in Washington, Transportation for America recently sent this letter to Speaker Nancy Pelosi that outlined 3 principles that should guide any potential infrastructure and transportation spending. If we're going to fund infrastructure investments to put people back to work, it's imperative that we get the most out of our precious dollars — and stay on track for passing the long-term transportation bill we so desperately need to get America moving again.
San Francisco-Oakland Bay Bridge Closure an Urgent Reminder to Rebuild America's Crumbling Infrastructure
October 30, 2009
By Stephen Lee Davis
WASHINGTON, D.C. — As the implications of the indefinite closure of the San Francisco-Oakland Bay Bridge sunk in Friday, Americans nationwide were reminded of the urgent need to pass a new transportation law that emphasizes the rehabilitation of America's crumbling roads, bridges and transit systems.