Our updated Stuck in the Station resource shows how USDOT was already slow-rolling transit funding well before Congress gave them another $1.4 billion 157+ days ago to build or expand transit systems across the country.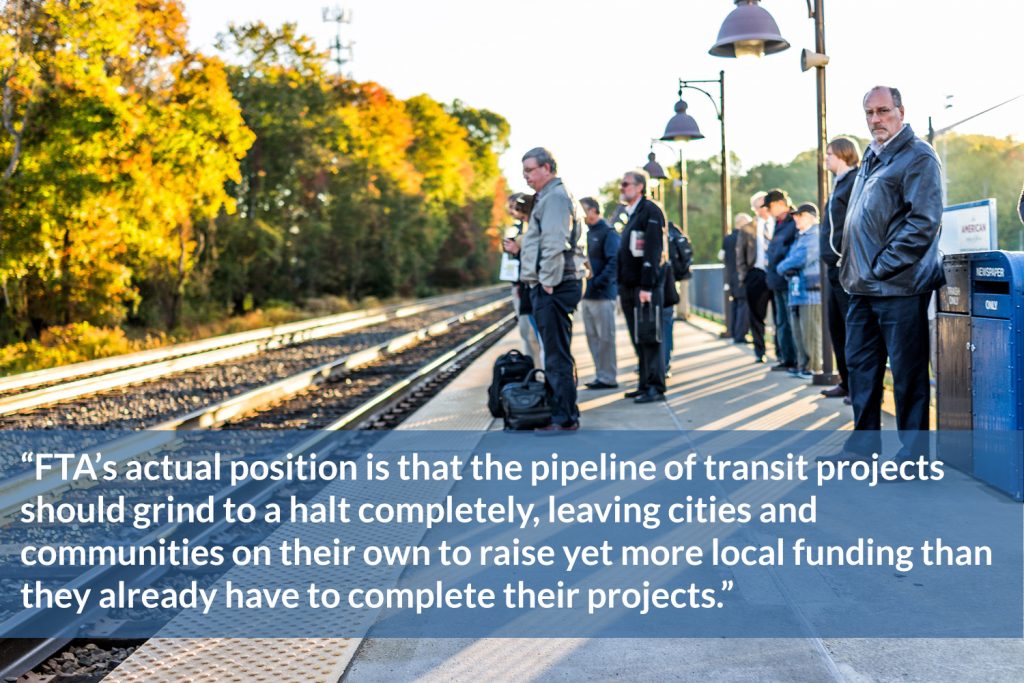 Since March 23, 2018, the U.S. Department of Transportation (USDOT) has awarded just $25 million of the $1,400,000,000 that Congress made available to them this year for advancing transit capital projects in more than a dozen cities. 
The full picture for funding is even worse. 
In addition to sitting on $1.4 billion, USDOT has distributed less than half of the $925 million Congress appropriated for new transit projects all the way back in May 2017—more than 480 days ago.
Collectively, that now means that Congress has given USDOT more than $2.3 billion over the last two years to help build or expand transit in scores of local communities. Though they have awarded about $457 million since early 2017, that's less than 20 percent of all the dollars that Congress has given them for transit capital investments over this two-year period. Put another way, nearly a full year after the close of FY17, USDOT has committed less than half of what Congress gave them for that period.
Congress is concerned about this slowdown: In a report commissioned by Congress, USDOT was warned by the Government Accountability Office back in May that they "run the risk of violating federal law" by failing to administer FTA's transit capital investment program, as we noted last Friday.


See the full dataset and most current numbers in Stuck in the Station
When USDOT responded to the initial release of Stuck in the Station, they asserted in a response to some reporters that they had in fact advanced ten transit projects since 2017 with funding agreements. But is that the right number? As we wrote in last week's post:
FTA suggested in their response to reporters that ten projects have received "new" full funding grant agreements (FFGAs) since 2017. But only two of those are actual big ticket New Starts or Core Capacity transit projects [that even require these types of multi-year grant agreements]: The CalTrain electrification project and the Maryland Purple Line project were both holdovers from the Obama administration that moved forward because of intense political pressure or the resolution of a pending legal dispute, respectively. The other eight projects FTA shared with one reporter were all Small Starts projects.
Two of these eight particular projects actually received FY16 dollars (The Link extension in Tacoma, WA and the SMART commuter rail in San Rafael, CA.) That arguably leaves just six transit projects that this administration has truly advanced through the pipeline on their own with 2017 or 2018 dollars.
This also means that, when the administration turned over at USDOT with the inauguration of President Trump, the previous regime had successfully obligated nearly all of the FY16 transit capital funds, save for about $200 million intended for just three projects. $100 million of that funding was for one project held up by a legal dispute (the Purple Line in Maryland). More than two years into the current administration, USDOT has awarded less than a fifth of the $2.3 billion they've been directed to obligate by Congress.
Wasn't this administration supposed to be all about delivering projects more quickly and cutting the red tape?