Earlier this month we hosted an informational webinar detailing our expectations and tips for our Cultural Corridor Consortium (3C) grants. Transportation for America is accepting applications to support creative placemaking projects addressing transportation challenges or opportunities in three U.S. cities.
After our last round of 3C projects in San Diego, Nashville and Portland, Transportation for America is seeking to award $50,000 (each) to creative placemaking projects in three new locations that engage residents, attract the attention of local public works and transportation agencies, and spark new conversations that bring more people to the table to plan and implement new transportation investments.
We are especially committed to funding collaborative projects that expand transportation opportunities and local control for low-income people, recent immigrants, and people of color living in communities that have experienced disproportionate disinvestment. We are accepting applications from communities of any type and size, including indigenous, rural, urban, suburban.
A full recording of the webinar is available here, or through the video above.
Applications may be completed online via a form on the T4America website at https://t4america.org/creative-placemaking-grants/, and you can also download the full application form there for the full information or to submit via email.
Application are due by June 2nd at 5 p.m. EST
Note: Unfortunately, due to our previous work with projects in San Diego, Nashville and Portland, OR, proposals from those cities are not eligible.
More questions? Email 3CGrant@t4america.org
To learn more about arts and culture in the transportation sector, check out The Scenic Route, our introductory guide to creative placemaking in transportation released last year. http://creativeplacemaking.t4america.org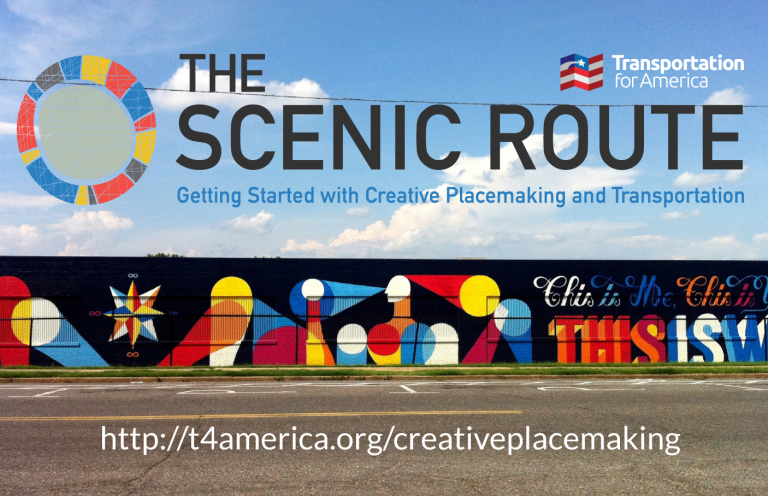 Good luck!