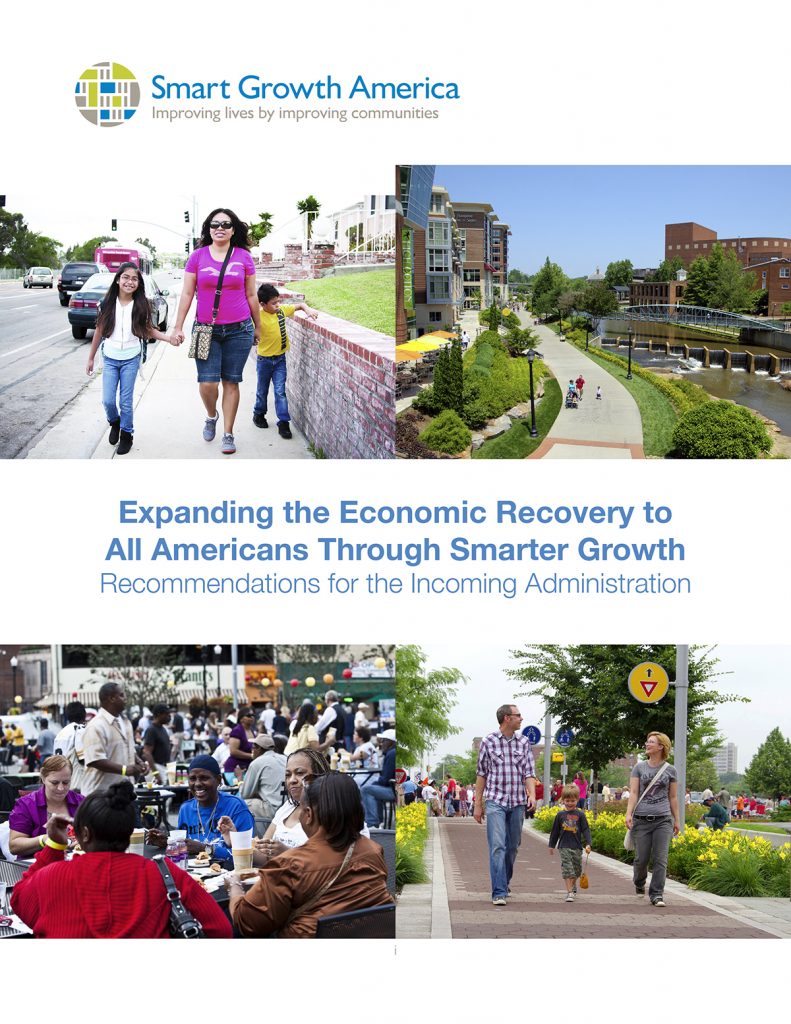 One of the biggest challenges for the incoming presidential administration is to make the economy work for individuals and families of all income levels. This short new guide of federal policy recommendations is designed to help the new administration accomplish just that.
As part of Smart Growth America, today we're releasing Expanding the Economic Recovery to All Americans Through Smarter Growth, a short guide from SGA providing concrete recommendations that federal officials in the incoming administration can implement to help grow the middle class, connect more Americans to opportunity and expand opportunities for creating lasting wealth.
This short document covers SGA's specific policy recommendations within five broad strategies:
Create more housing choices
Connect Americans to opportunity by providing more transportation choices
Empower local communities
Invest in existing communities
Make smarter, more cost-effective investments
T4America's transportation policy recommendations within this document show how the incoming administration can connect Americans to opportunity by providing more transportation choices, empower and invest in local communities and make smarter, more cost-effective investments.
Indicators pointing to an economic recovery don't matter if you still can't get a job, your housing costs are escalating, or the opportunities are drying up where you live. While median household income has risen in recent years, it is still shy of where it was in 2007, adjusted for inflation. And among lower- and middle-income households, it has been slower to rebound. The contentious 2016 election has highlighted deep divisions and shown that there are wide disparities between who is experiencing recovery and who is missing out.
Though they are vital to Americans' prosperity, the role of housing, transportation, and access to education and job opportunities have been largely missing from any national conversation about boosting wages, expanding the middle class or providing pathways out of poverty.
Smart growth is not a cure-all and the administration should lean hard on other economic, social and cultural solutions. But given the effects of housing and transportation costs on people's pocketbooks, smart growth strategies — expanding economic prosperity, improving lives by improving the communities that we call home, and creating opportunities for people to have a high quality of life and build wealth — have to be part of the solution.