The Senate Finance and House Ways and Means committees today each passed similar short-term patches to keep the Highway Trust Fund in the black at least through early 2015. If adopted by the full House and Senate, the move to transfer $10.8 billion to the trust fund will avert immediate disaster, but there's still heavy work needed to find a long-term funding solution.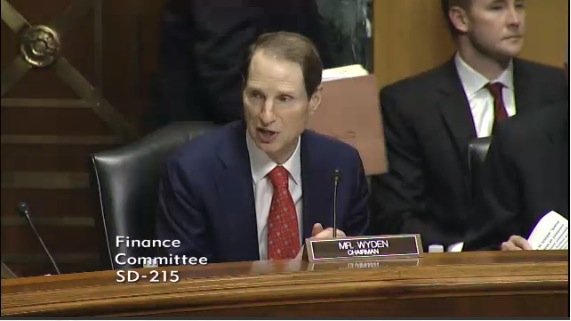 Without this stopgap — if approved — worked out by Chairman Wyden and Chairman Camp and their respective committees, reimbursements to states would have been cut as much as 28 percent starting in just a few weeks, according to the U.S. DOT. But Congress has bought itself only a few months to address the larger problem of long-term solvency.
The House Ways and Means Committee was first to act this morning, marking up their funding patch to keep the trust fund solvent through May 2015 — five months longer than the Senate's original plan. Senate Finance resumed discussion of its trust fund bail-out this afternoon after making key changes to match the $10.8 billion in the House provision while striking the language specifying an expiration date.
The upshot is that both measures have enough revenue to carry the trust fund into 2015, although Democrats have been pushing to consider a long-term transportation measure before the end of the year. Sen. Tom Carper offered an amendment to reduce the amount of the patch so that it would expire at the end of December, but it was not approved. Overall, the bill passed with just one "no" vote from Senator Carper.
As passed today, the Senate proposal would transfer $9.824 billion in general funds to the Highway Trust Fund, and $1 billion from fund for leaking underground storage tanks. The Senate bill modified some of the many mechanisms of paying this money back from their original proposal, most notably by including the House's plan for "pension smoothing."
The real question is how long this revenue cobbled from multiple accounting gimmicks will hold out. May 15 seems optimistic, given how the insolvency point moved sooner and sooner over the course of this year. Last month, the Congressional Budget Office projected we'd need $8 billion just to make it through this year.
Senator Bob Corker (R-TN), who co-introduced a plan to raise the federal gas tax 12 cents over two years, didn't hide his disappointment in this plan and how Congress is paying for it. "This disgraceful practice of borrowing money to cover a few months of spending and paying for it over a decade is nothing more than generational theft," he said in this Transport Topics story.
His comments as well as others made today by members of the House and Senate committees could represent a groundswell to find a real long-term funding fix and end the practice of lurching from crisis to crisis. After all, providing funding just for ten months instead of five months doesn't actually give States the reliability and predictability they need for multi-year contracts and bigger projects — it just ensures that many projects underway or getting started this summer won't hit the brakes. Think of it this way: States could resurface a road with some confidence, but that multi-year project to replace the deficient old bridge on the same road? Tough to do when you only have funding through May with any certainty.
Even House Transportation Committee Chairman Bill Shuster, who also supports the fix through May, said today, "This bill in no way precludes Congress from continuing to work on addressing a long-term funding solution, and a long-term reauthorization bill remains a top priority for the Transportation Committee."
"We are pleased that Congress has begun to take the situation seriously and will avoid the economic pain of an insolvent trust fund, at least for the very near term," said T4America Director James Corless.
"Perhaps the most important outcome is that the debate in both chambers showed a growing discomfort with short-term accounting tricks and a bipartisan desire for a long-term solution. In truth they have only bought themselves a few short months to grapple with an issue they have delayed for years.  We look forward to working with Chairman Wyden, Chairman Camp and other leaders as they make good on their promise to work in earnest on a long-term solution to fund the infrastructure our economy and daily lives depend on."