On Thursday, Pennsylvania Governor Tom Corbett will release his long awaited proposal for remedying the Keystone state's daunting transportation funding and policy difficulties. Leaks from several key legislative staffers indicate that his plan will propose a new source of transportation revenue that doesn't violate his pledge to never increase taxes.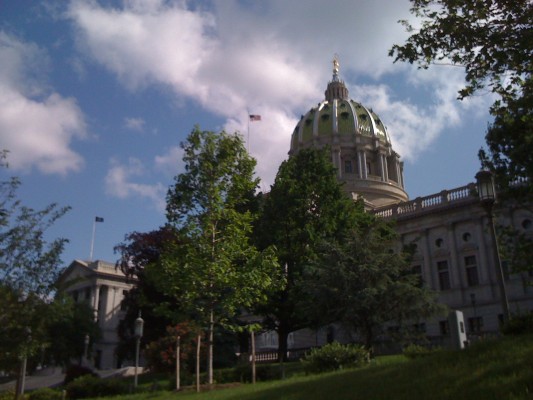 (This post is by Andrea Kiepe, T4 America's regional organizer in Pennsylvania. -Ed.)
According to the Philadelphia Inquirer, the Governor "intends to uncap the so-called oil company franchise tax," allowing this tax to be applied to the full wholesale price of fuel, rather than an artificially limited $1.25 per gallon level. Removing this limit would eventually yield nearly $2 billion annually, according to information from the administration.
Pennsylvania's key location as a shipping crossroads, rugged topography, cold weather and massive backlog of aging rails, roads and bridges have made the commonwealth a perfect example of the critical infrastructure problems affecting so many states. And like the rest of the country, declining gas tax revenues due to increasing fuel economy standards and/or reduced driving results in less available revenue as needs continue to grow.
Pennsylvania has the highest percentage of structurally deficient bridges in the US, according to our report "The Fix We're in For." More than 26 percent of PA bridges – almost 6,000 in total – are in need of significant repairs and maintenance.
Just tackling the state's vast backlog of road and bridge repair needs could consume every penny of the new funding source, according to 2008 figures from FHWA, gathered in Smart Growth America's Repair Priorities report for Pennsylvania.
Repair Costs for Pennsylvania's Road and Bridge Network
PennDOT state-owned major roads: 57,307 lane miles
Lane miles in "poor" condition 12,357
"Structurally deficient" bridges 5,789 (28%)
Annual preventative maintenance needs for road/bridge network: $2.9 billion
Annual major rehabilitation needs for "poor" and "deficient" roads/bridges: $509 million
Total annual road/bridge repair need: $3.4 billion
In light of the Governor's new plan for funding, Pennsylvania residents and advocates will be wondering: Will this influx of new money fund expensive new roads and added lanes, or focus on repair, as PennDOT has successfully done in the past?
According to Repair Priorities, "The Pennsylvania DOT (PennDOT), for example, has taken major steps in prioritizing repair and preservation projects … In recent years, PennDOT has steadily increased the portion of highway capital dollars spent on road repair and preservation projects from just 10% in 2004 to 43% in 2008. As a result, PennDOT, which is responsible for some of the oldest road infrastructure in the country, has increased the percentage of its lane-miles in good condition from 26% in 2004 to 29% in 2008."
Many local advocates are also insistent that any transportation fixes must include funding for public transportation.
Recently, Philadelphia's transit system, managed by SEPTA, was named the best in the US. Despite these accolades, the legacy system badly needs millions in upgrades and repairs to continue reliably carrying tens of thousands of passengers each day. Meanwhile, the Pittsburgh transit system was rocked by massive proposed cuts last year – as much as cutting service by one third. Though the funding gap was resolved without drastic cuts, there's no long term funding solution for Pittsburgh transit on the horizon.
In a recent opinion piece, business and labor leaders including representatives of the Greater Philadelphia Chamber of Commerce, the AFL-CIO and the Laborers, said unanimously "We believe that additional revenue, if immediately and properly invested, would go a long way toward allowing the commonwealth to repair aging roads and bridges while meeting the capital requirements for our mass transit systems."
Governor Corbett's PennDOT Secretary Barry Schoch has issued recent statements that make it clear the Administration values transit and recognizes the need for adequate, stable funding for it.
"Mr. Schoch also said the governor's plan will address all modes of transportation, including a long-term strategy for funding public transit agencies like the Port Authority…'We actually subsidize rural roads at a much higher rate than we subsidize mass transit. If you think about a two lane road – if it doesn't carry at least 10,000 vehicles a day, it's being subsidized.' Schoch says most rural roads carry fewer than 2000 vehicles. And he says most of PennDOT's revenue comes from vehicle fees and gas taxes; the lion's share of which is paid by residents in Pennsylvania's urban areas."
Finally, Schoch also has indicated that the Governor will also propose new legislation creating new ways for cities and regions to raise funding for transportation improvements. This could be a great opportunity for beleaguered urban areas to use innovative financing mechanisms like TIFIA to fund system improvements.
Will this be the only source of revenue on the table? The Governor's TFAC Commission report identified dozens of potential revenue sources, everything from LED signal light conversion to a host of increased fees and fines. Will the Legislature make repair a priority?
Many critical decisions still need to be made.