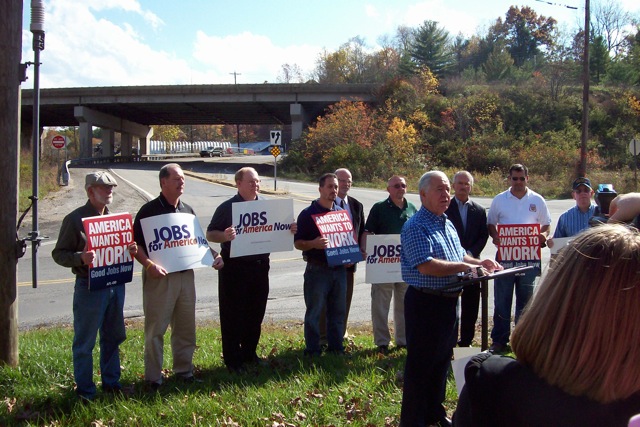 Many communities are taking a close look at Transportation for America's deficient bridge rankings by metro areas released last week. People are telling their representatives to invest in our infrastructure — and Washington is listening, with President Obama and rank-and-file members of Congress expressing urgency about repairing our crumbling assets.
At an event held at the Route 16's Mabscott Overhead Bridge in Beckley, West Virginia, (pictured right) Representative Nick Rahall made a strong case for repair while surrounded by labor partners carrying "America wants to work" signs. The local NBC, ABC and CBS affiliates were on hand, alongside the Associated Press and Beckley Register-Herald, the region's largest daily newspaper.
"It should not take a major catastrophe to bring this home to America. This horrific and tragic example shows how America's decaying infrastructure is a disaster waiting to happen," Rep. Rahall said, citing past tragedies that could have been prevented with greater foresight and investment
Rahall added that putting Americans to work was also a "deficit reduction issue" because it means more people paying taxes and putting money back into the economy.
Gary Zuckett, executive director of West Virginia Citizen Action and T4 America's chief organizer in the state, played a key role in making the event happen.
At a similar event under a 78-year-old bridge at Chicago's Lakeshore Drive and Wilson Ave. last Wednesday, Representative Jan Schakowsky joined labor groups, the Illinois Chamber of Commerce and other groups in highlighting unsafe bridges in their area. The local affiliates for ABC, CBS and FOX all picked up the story, alongside print media and several blogs.
"Don't my colleagues and their families and their children drive over bridges like this? Isn't this a priority?" Schakowsky, a Democrat from Illinois' Ninth Congressional District, said during the event. Brian Imus, the state director of Illinois Public Interest Research Group, pictured at the lectern, also addressed members of the press and public.
West Virginia has more than 2,500 bridges rated as structurally deficient, while Illinois has more than 2,200.Portions of West Virginia are also part of the Washington, DC metropolitan area, which has 215 structurally deficient bridges, or 5.7 percent of total bridges.
9.4 percent of the bridges in the Chicago-Naperville-Joliet metropolitan area are structurally deficient, for a total of 481 deficient bridges.
The deficient bridges in our largest 102 metro areas carry three-quarters of all traffic that crosses a deficient bridge each day. Check out how your area stacks up here.