On the same day the President visits a critical bridge in Cincinnati, these state and county level data and an interactive map of structurally deficient bridges across the U.S. shows that bridge repair needs touch every community.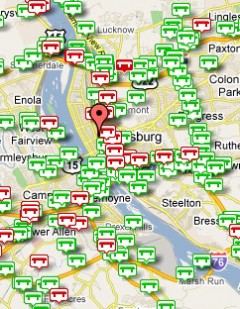 President Obama's visit to the Brent Spence Bridge bordering Ohio and Kentucky calls much-needed attention to the urgency of bridge repair and rehabilitation throughout the country. Those needs are clearly visible in the detailed state-by-state reports, and county level bridge data (including an interactive, searchable map of every deficient bridge in America) being made available today at https://t4america.org/resources/bridges/states/.
The President's event comes on the heels of last week's closure of the 49-year old Sherman Minton Bridge over the Ohio River between Louisville, Kentucky and New Albany, Indiana after cracks were found in the support structure. Like similar bridges nationwide, the heavily travelled bridge is crucial to the economy of both states and for commuters crossing the river to get to work.
Today, nearly 70,000 bridges nationwide— about one in nine —are classified as "structurally deficient," in need of close monitoring and near-term repair, according to data from the Federal Highway Administration (FHWA). Transportation agencies would need $70.9 billion to overcome the current backlog of deficient bridges.
"As the President has noted, a serious effort to address the backlog of structurally deficient bridges would be an immediate source of jobs, doing work that desperately needs to be done," said James Corless, director of Transportation for America. "Our coalition members, in nearly every state of the union, have long noted this situation, and are gratified to hear the call echoed by high-profile leaders."
Transportation for America's spring report, "The Fix We're In For: The State of Our Nation's Bridges" tallied the structurally deficient bridges nationwide. T4 America is also making available county-by-county lists of structurally deficient bridges, and their rankings, for those who would like to evaluate the depth of their own local needs.
In addition to funding needed maintenance today, T4 America urges Congress to also enact tough guidelines in the next transportation bill to ensure that precious taxpayer dollars prioritize making existing bridges safe. One logical step forward would be Senator Ben Cardin's Preservation and Renewal of Federal-Aid Highways Act, which would require the Secretary of Transportation to establish "state of good repair" standards for highways and bridges that receive federal funding, ensuring that federal dollars are targeted toward the most pressing needs first and holding states accountable for improving the condition of their infrastructure.
"Congress has a dual task right now of giving a weak economy a needed boost while creating the conditions for future growth and economic opportunity," Corless added. "Providing a near-term boost to rebuild infrastructure, coupled with a comprehensive update of the long-term federal transportation bill will put people to work building the physical assets that will serve the country for decades to come. We appreciate the President's focus on infrastructure and look forward to working with both the administration and Congress on getting something done."
You can learn more about "The Fix We're in For: The State of Our Nation's Bridges" at https://t4america.org/resources/bridges/