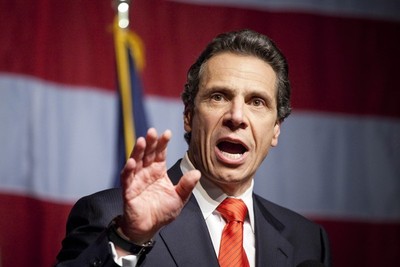 New York Governor Andrew Cuomo's decision to sign Complete Streets legislation is a step forward for pedestrian safety, though a New York Times report out of Orlando yesterday illustrates how much further we have to go.
First, the New York measure — known as "Brittany's Law" in honor of 14-year old girl struck by a car in a crosswalk on her way to school — sailed through the legislature with unanimous votes and broad-based support earlier this summer. The Tri-State Transportation Campaign, a T4 partner, played a pivotal role in passage of the bill, along with the New York chapter of AARP. Republican Senator Charles J. Fuschillo, chairman of the transportation committee in the upper house, was the original sponsor.
Complete streets policies aim to make new and reconstructed roadways safe and accessible for all users, including pedestrians, bicyclists, wheelchair users and transit riders, as well as motorists. Sadly, the status-quo for most users around the country is woefully unsafe and insufficient, perhaps nowhere more so than in Florida.
"As any pedestrian in Florida knows, walking in this car-obsessed state can be as tranquil as golfing in a lightning storm," wrote the Times' Lizette Alvarez yesterday, continuing:
Sidewalks are viewed as perks, not necessities. Crosswalks are disliked and dishonored. And many drivers maniacally speed up when they see someone crossing the street.

Then there are the long, ever widening arterial roads — those major thoroughfares lined with strip malls built to move cars in and out of sprawling suburbs.
Alvarez, who spoke with T4 America for the piece, noted that four metropolitan areas in the state were ranked as the worst in the nation for pedestrians in our Dangerous by Design study, with Orlando at number one. And, as her reporting demonstrated, these statistics are borne out by real people everyday:
Just down the street, the same scene played out repeatedly, only pedestrians raced across the road (where there was no median) to a neighborhood supermarket. One group included a child in a stroller. The road, like so many others, was built for cars and not people.
Fortunately, Orlando officials are starting to see the situation with the urgency it demands. They are building miles of new sidewalks, putting in audible pedestrian signals and instituting measures to slow traffic. Frank Consoli, traffic operations engineer for the city of Orlando, told Alvarez the goal was "to change the culture and this thinking that is car-centric."
But local efforts alone will not suffice. As the article points out, many roads fall under multiple jurisdictions with conflicting priorities. That's why actions like those of Governor Cuomo and New York State legislators are crucial — to ensure the kind of uniformity and safety that pedestrians everywhere deserve.
As we pointed out in Dangerous by Design, two-thirds of the 47,700 pedestrian fatalities from 2000-2009 occurred on roads eligible for federal funds or with federal guidelines for design. Since federal transportation dollars have helped build these unsafe streets that treat pedestrians as an afterthought, the federal government must play a role in fixing the problem.
In the House, Democrat Doris Matsui of California and Republican Steve LaTourette of Ohio have introduced national complete streets legislation, and Senator Tom Harkin (D-Iowa) is sponsoring a companion piece.
Portions of the Orlando metropolitan area, incidentally, are represented in Congress by John Mica, the powerful chairman of the House Transportation and Infrastructure Committee. Will Mica respond to the needs of his constituents by making safe and complete streets a priority in the next transportation bill?
We're gathering pictures of unsafe conditions for pedestrians to show online and in meetings with members of Congress here in D.C. Share the conditions near you by sending in photos. Details here.