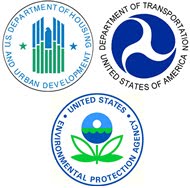 The Partnership for Sustainable Communities, an innovative plan to get federal agencies working in concert instead of at cross-purposes, is celebrating its two year anniversary. And there is good reason to celebrate.
The Partnership, a joint venture between the U.S. Department of Transportation, Department of Housing and Urban Development and the Environmental Protection Agency, promotes multi-agency cooperation and solutions to key economic problems. One of its chief advisers is HUD's Shelley Poticha, a longtime advocate for smart planning and transit who previously served as President and CEO of T4's co-parent organization Reconnecting America.
In a blog post today, Transportation Secretary Ray LaHood joined EPA chief Lisa Jackson and HUD Secretary Shaun Donovan in describing the Partnership's work:
Two years ago, President Obama offered a new vision for sustainable communities and vastly improved how our agencies work together. He challenged us to coordinate our efforts and help build communities where housing, public transportation, jobs, and services are conveniently connected, where businesses thrive, and where the air, water and land are clean.
Agency collaboration is precisely the kind of common sense that Americans expect from Washington. If anything, policymakers have been slow to catch up with what local officials are already doing.
Last year, we spoke with Kris Krider, Town Planner for Davidson, North Carolina, a small community 20 miles from Charlotte, about the Partnership and the need for collaboration.
"I think the relationship between the DOT, HUD and EPA is a great way to start," he told us. "I think it's looking at things comprehensively. We don't live in a world that's just HUD and EPA, so the relationships between agencies in the federal government should mimic what towns are facing."
Roger Millar, who now serves as director of the Leadership Institute at Smart Growth America, said federal assistance in 3,000-person McCall, Idaho "gave citizens a vocabulary that they didn't have," adding: "What the team was able to do was put the tools in the citizens' hands to say, 'This is what we want — it looks like this.'"
Millar got it exactly right — the Partnership is not about dictating on high what local communities should be doing to create jobs, get people moving and improve quality of life. It's about giving them the tools and resources to make those decisions for themselves, and recognizing that it's nonsensical to keep housing, transportation and the environment in their own compartments.
The two-year mark is important for it's own sake, but especially notable given the the very real threat the Partnership was under during this year's budget debate. As Poticha put it, according to Transportation Nation:
Our office was lined out of the budget for 2011 and we were out for months. I think it's only because people in communities called up their representatives that we are still here.
Reform and progress are often fragile, so it is gratifying to see how far the Partnership has come. And their approach is needed now more than ever.