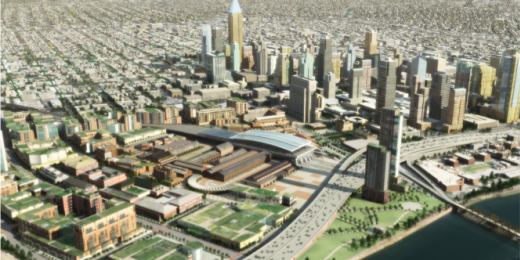 This is a projected image of the area around the Sacramento station, courtesy of the California High-Speed Rail Authority.
High-speed rail investment has the potential to yield great economic and environmental rewards for California, but only if communities make smart decisions about land-use and growth at and around new stations.
A new report prepared by the San Francisco Planning and Urban Research Association offers prescriptions for how communities can prepare for rail investments.
"The new statewide rail system presents a once-in-a-century opportunity to reshape their local economies and set the course for more compact, less automobile-dependent growth," according to the report.
The first leg of California's high-speed rail is the backbone of the system through the state's Central Valley, including population-rich Bakersfield and Fresno. Once all 26 stations have been completed, the system will reach northward to Sacramento and include service from San Francisco to Los Angeles and further southward to San Diego.
The benefits are plentiful. For starters, by shortening travel time between successful metro areas, high-speed rail brings geographically distant focal points closer, connecting more people to opportunities and jobs. The new stations and ease of travel can also revitalize downtowns, bring economic opportunity to low-income communities and reduce suburban sprawl.
By providing a viable alternative to the car — and, in the case of longer journeys, to energy-intensive air travel — high-speed rail is also a terrific means of reducing greenhouse gas emissions and assisting California in meeting the targets of its groundbreaking climate change law, AB 32.
But each of these potential benefits comes with a cautionary tale. The BART system in the San Francisco Bay Area, for instance, was intended to fuel compact and transit-oriented development, but many of the more suburban stations were surrounded by parking lots and built away from town centers, missing the opportunity to add ridership by building up those areas or spurring new walkable centers. Similarly, most of California's airports are surrounded by parking lots and access roads, making nearby development less desirable. Policymakers must make a concerted effort to avoid a similar fate near high-speed rail stations and be willing to prioritize growth in strategic areas.
The station sites face myriad challenges and opportunities. Some, like San Francisco and Sacramento already have traditional downtowns, while San Jose and Anaheim have emerging downtowns with the potential for growth. Stockton, Merced, Fresno and Bakersfield have downtowns as well, but struggle with high unemployment and a lack of private sector investment. Reconciling rail with more traditional suburbs and major airports will be the focus at other stations.
SPUR offers ten recommendations for planning preparation, which include:
Developing station area plans for each high-speed rail station area
Drafting statewide station area planning and development guidelines to inform local decision-makers
Drafting a statewide implementation plan
Providing financial support for local planning as needed
And, establishing local development corporations to facilitate local area development
To see the rest of SPUR's recommendations and the entire report, you can visit their website here.