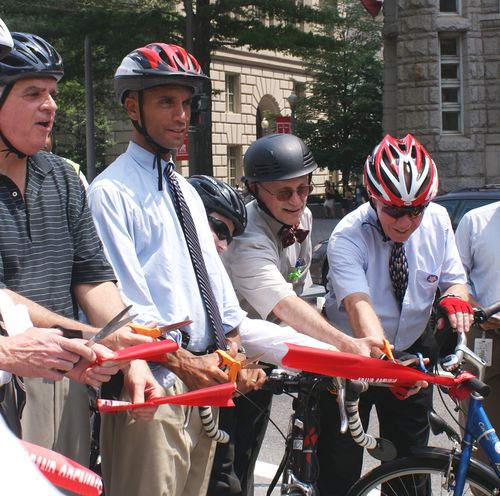 LaHood with Mayor Fenty, DDOT Director Gabe Klein and Reps. Blumenauer and Oberstar. Photo courtesy of USDOT.
Transportation Secretary Ray LaHood has made a point of championing bicycling as a legitimate travel option everywhere, but he is also keeping an eye on his own backyard, including Pennsylvania Avenue in Washington DC. LaHood joined DC Mayor Adrian Fenty, city staff and members of Congress in inaugurating the new dedicated bike lanes on what is known to some as "America's Main Street."
According to the Washington Post, the new lanes are part of a pilot program on streets expected to be able to accommodate both significant automobile and bicycle traffic. They run along Pennsylvania between Third Street and 15th Street in DC's Northwest quadrant.
One of the most important people to attend the event, held last Wednesday, June 23, was among the least known: DC Department of Transportation Director Gabe Klein. Although local bicycling advocates had differing opinions on how to construct the Pennsylvania Avenue lanes, no one can dispute that Klein has been a visionary in making DC more livable and accessible by all kinds of transit options. Klein and his staff at DDOT, many of whom attended themselves, deserve a lot of credit.
Here is LaHood on his blog, describing two bike boosters in Congress who attended the inauguration.
We should also thank two of our nation's most effective bicycling advocates, Rep. Blumenauer and Rep. Jim Oberstar, Chairman of the House Transportation & Infrastructure Committee, both of whom joined us in yesterday's heat to celebrate these new lanes–in their work shirts and ties, along with helmets, gloves, and ankle straps to keep their pants out of their bike chains.

In his remarks, Rep. Blumenauer made a terrific point, reminding motorists that, "A bike is really a driver's best friend. Because every bike you see cruising down one of these lanes is one less car to compete with in traffic, one less bit of congestion, one less driver buying fuel."

But it was Rep. Oberstar who may have had the best line of the day: "Bicyclists aren't burning hydrocarbons; we're burning carbohydrates!"