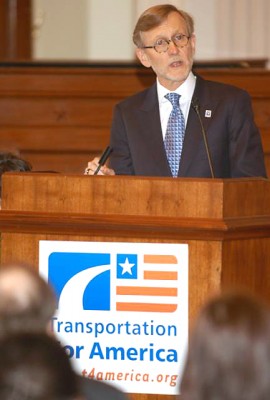 Mayor Smith speaking at the T4 America platform launch in 2009.

Mayor John Robert Smith, T4 America co-chair and President of Reconnecting America, testified before a Senate committee today about the transportation challenges facing rural areas and small towns — and offered six practical suggestions for how the federal government can help them meet these challenges head-on.
Far from being left behind or left out of federal transportation policy, Mayor Smith's recommendations provide a clear road map for boosting the economies of Main Streets across America and connecting small cities and towns to increased economic opportunity. As the former Mayor of Meridian, Miss., and the board chair of Amtrak, he has experience on almost all sides.
The word may have connotations of big cities and tall buildings, but our small towns are decidedly "urban" — at least in the sense that many residents live decently close to a town center or square, with a street grid that gives people the option to walk. Schools may still be within walking distance in the town's core, kids ride their bikes around town, families walk when they can, and these historic downtowns are still magnets for business and community events.
But while major metro areas are battling gridlock and congestion, smaller towns are looking at issues of access, ensuring that residents have good connnections to economic opportunities — and that they can get where they need to go quickly and affordably.
"Long commutes, volatile energy prices, and shifting demographics all impact the prosperity of these communities," Mayor Smith testified this morning. "Many small towns and rural areas lack the financial resources, planning capacity, or authority to implement solutions to their transportation needs. A bold new policy is needed at the federal level to meet those needs."
He knows a thing or two about how transportation decisions can affect economic opportunity on Main Street after years as a mayor. "In my own hometown [Meridian, Miss.], through investment in our downtown and the creation of a transportation hub, we bolstered the local economy and reversed the decline of our historic buildings and city center. Other communities like ours can experience that same revitalization if our country will commit the resources needed to enhance the economic competitiveness of existing communities," he said.
Mayor Smith, T4 America and our many partners in rural areas that developed these recommendations are seeking to provide a framework for residents of our small towns and rural areas to have the transportation options they need so they're not stranded without options.
Residents of these areas are demanding good transit networks, safe streets, bridges that don't fall down and highways that aren't cracked and potholed.
Mayor Smith's testimony to the Senate Environment and Public Works Committee coincided with the release of a whitepaper on rural transportation entitled "Principles for Improving Transportation Options in Rural and Small Town Communities," which describes T4 America's recommendations in much greater detail.
You can read his full testimony here.