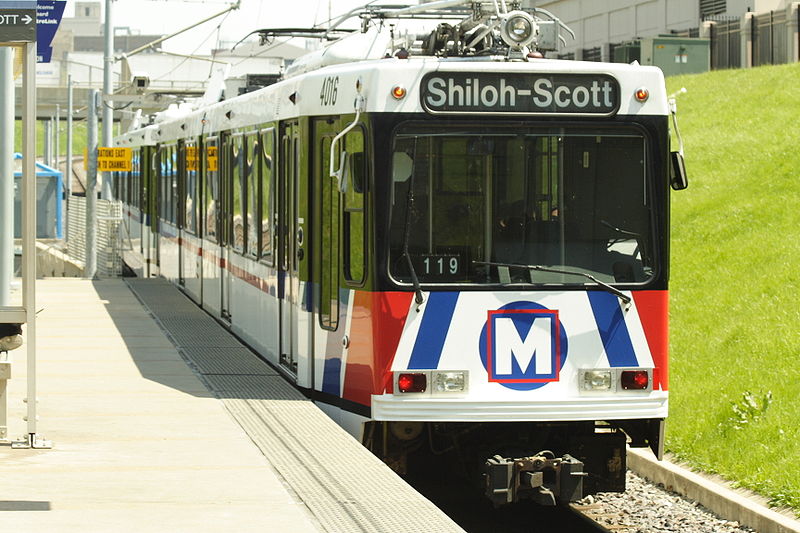 Light-rail system in St. Louis (Photo courtesy of Matthew Black
Americans are continuing to open their wallets and vote with their feet in support of increased transportation options, despite a tough economic climate. On Tuesday, a half-cent sales tax to fund the Metro transit system in St. Louis County in Missouri was approved by a decisive 63 percent of the vote. The increased revenue from Proposition A  will allow officials to restore previously eliminated bus lines and expand the system into more far-reaching suburbs. The measure will also restore lost Call-A-Ride service, a door-to-door van for older and disabled riders.
According to the St. Louis Post-Dispatch:
If the measure failed, service would have been scaled back to about half the level it was before Metro's first round of service cutbacks in March 2009. Metro suspended bus service to 2,300 of the 9,000 bus stops and bus shelters in the Missouri half of the transit system.

MetroLink trains ran less often on both sides of the Mississippi River during times when commuters needed them the most: rush hour. Federal stimulus money helped restore some of that lost service in August, but that money soon will run out.
Although public transportation will not be on truly secure funding until Congress approves and President Obama signs a new and forward-looking transportation bill, it is terrific to see communities like St. Louis step up and refuse to wait. For now, St. Louis County has a reliable local funding stream for its transit system and the ability to plan for overdue expansion. The margin of victory conveys strong and bipartisan support for Metro in St. Louis County, which has a much more moderate electorate than the city proper.
The election excited the student body at Washington University, which is located in St. Louis. The campus chancellor, Mark Wrighton, served as co-chair of the Proposition A campaign. Many students volunteered for the campaign and 20,000 alumni living in St. Louis County received letters of support.
The campaign also relied on Congressman William Lacy Clay, who represents much of the city of St. Louis, and an ad hoc committee of black clergy were also involved.
John Nations, the Republican mayor of suburban Chesterfield, made an astute point about how a vote for Proposition A was also a vote for jobs. He told the Post-Dispatch: "there was a cost to voting no. If it was voted down, people lose their jobs at Metro. People are going to lose their jobs because they can't access them."
St. Louis County voted yes to jobs and yes to transit.