There isn't a state in the union that doesn't depend on oil for transportation. But states have varying levels of dependence, making some far more vulnerable to dramatic economic impacts as the price of oil goes up or down — depending on how many options consumers have for getting around.
Continuing the recent theme of the transportation challenges facing our small towns and rural areas comes this new report from the National Resources Defense Council analyzing the vulnerability of each of the 50 states to changes in oil prices. The research is timely with the national price for gasoline reaching $2.79 a gallon this week, the highest level since October 2008 according to the Energy Department, and likely to rise higher as we head into the summer driving season.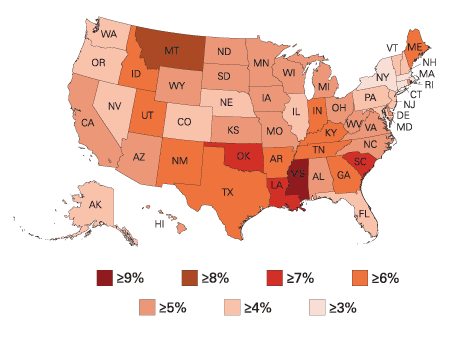 Percent of Income Spent on Gasoline by the Average Driver, 2008. Graphic from NRDC
As the graphic shows, drivers in some states would have to spend a larger share of their income on gasoline and are more vulnerable to oil price shocks. The five states that are most hurt by higher fuel prices are Mississippi, Montana, Louisiana, Oklahoma and South Carolina. Drivers in these states would have to spend as much as 11 percent of their annual income on gasoline, or about $3,345 on average, if the price returned to $4 a gallon.
Compare this list with the five least vulnerable states — New York, Connecticut, Massachusetts, Maryland and New Hampshire — which have historically had a variety of transportation options to choose from, from private cars to public transportation and commuter trains, as well as development patterns that have produced walkable neighborhoods where residents can safely walk or bike for short trips. States that can find ways to provide residents with multiple options for getting around will be better off financially in the long run.
Already, people living in urban areas that have access to a wide array of transportation options spend 4% or less of their income on gasoline, while some rural residents reportedly spend over 13% of their income on fuel. And a study comparing 10 statewide averages, 12 major metro areas, and 29 counties that are at least 25% Native American found that households in rural areas spend almost 30% of their income on fuel, compared to metro area averages as low as 2.6% in some parts of the country. (pdf)
With the Energy Department forecasting gas prices topping $3 a gallon this spring and summer, residents in areas that have few options for getting around besides getting into the family car could find themselves with an unfortunate choice: Spend more of their income on transportation, or be stranded without any other options.
Increasing access and mobility is not an exclusively urban or a rural agenda. It should be a national goal that we work toward using a variety of policies, including fixed route and paratransit bus services, intercity and commuter rail services, intelligent transportation solutions, telecommuting and complete streets safe for walking and biking.