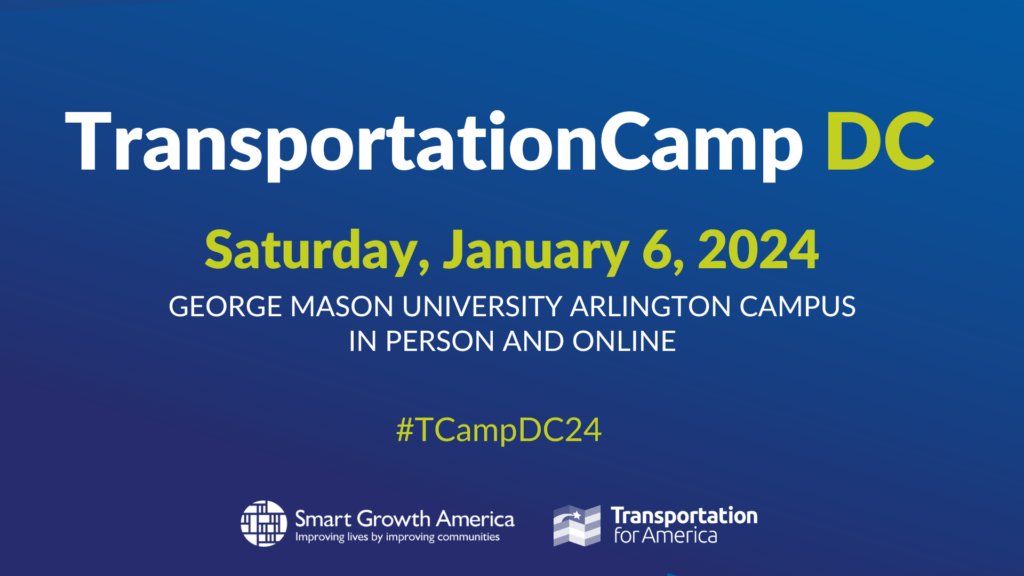 Join us on Saturday, January 6, 2024, at George Mason University's Arlington campus (or on Zoom!) for another year of TransportationCamp DC. Click here to register > >
Every year, transportation enthusiasts get together on the first Saturday in January to share their ideas and map out new possibilities. As cities across the country work to reconnect communities divided by harmful infrastructure, pedestrian fatalities continue to rise, and new technology presents opportunities and challenges for the future of transportation, TransportationCamp is as important as ever.
An annual "unconference," TransportationCamp is a time for advocates, practitioners, business leaders, professionals, students, and anyone else who might call themselves a "transportation nerd" to gather, share their ideas and perspectives, and take stock of where we're going and how we got here.
At TransportationCamp, attendees steer the conversation by submitting, voting on, and facilitating breakout sessions on topics of their choice. Whether you're interested in methods to reduce transportation emissions, bridge divides, or make our streets safer for all, join TransportationCamp to be part of the conversation!
Questions about TransportationCamp DC? Contact Abi Araya, aaraya [at] smartgrowthamerica.org.
Register now!
Tickets:
General admission: $50
Student admission: $35 (use code 24STUDENT at checkout)
Virtual admission: $10
Accessibility at TCamp
People with disabilities face unacceptable systemic barriers , and their voices are critical in the movement towards safe, accessible, and convenient transportation systems. With that in mind, we intend to create a TransportationCamp experience that is inclusive and accessible to everyone. All virtual and hybrid sessions will include closed captioning, we'll provide a guide to all session facilitators on how to make presentations accessible, and we'll share additional accommodations as we have them. ASL interpreters will be made available depending on the volume of requests we receive by December 13.
Have questions or concerns about accessibility at TCamp? Would you like to request ASL interpretation? Please reach out to us! Contact Courtney Cole, ccole [at] smartgrowthamerica.org.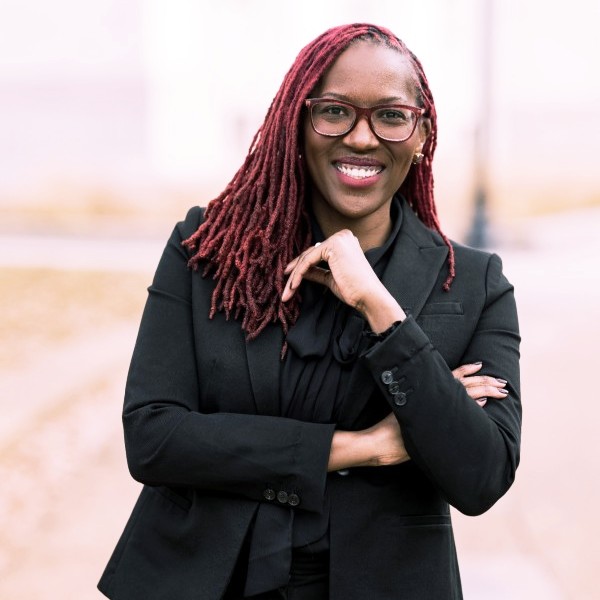 Meet our keynote speaker, Veronica O. Davis, Director of Transportation at the City of Houston
Veronica O. Davis, P.E. is a self-described "transportation nerd," who has worked across several modes of transportation including roadway design, bicycle and pedestrian infrastructure, transit planning, and rail. Her new book, Inclusive Transportation: A Manifesto for Repairing Divided Communities, was released in July of 2023.
Agenda
In Person
9:15 a.m. – Breakfast
10 a.m. – Welcome and keynote
11 a.m. – Period 1 sessions
12 p.m. – Period 2 sessions
1 p.m. – Lunch
2 p.m. – Period 3 sessions
3 p.m. – Period 4 sessions
4 p.m. – Period 5 sessions
5 p.m. – Adjourn
Virtual
10 a.m. – Welcome and keynote
11 a.m. – Period 1 sessions
12 p.m. – Period 2 sessions
1 p.m. – Break
2 p.m. – Period 3 sessions
3 p.m. – Period 4 sessions
4 p.m. – Adjourn
How to get there
TransportationCamp will be at Van Metre Hall on George Mason University's Arlington campus, 3351 Fairfax Drive, Arlington, VA 22201.
By bike: Bike parking is available near the front entrance on Fairfax Drive and in the parking garage, located at the rear of the building.
By metro: The closest metro stop is Virginia Square–GMU on the orange and silver line. Exit via Virginia Sq-GMU Metrorail Station at the southwest corner of Fairfax Drive & North Monroe Street, then head north on North Monroe St toward Fairfax Drive.
By car: Route to Founders Way North, Arlington, VA in Google Maps to get directed to the parking garage entrance.
Code of conduct
All TransportationCamp DC attendees have the right to enjoy Camp equally. Illegal or disruptive behavior that interferes with the conduct of reasonable business during Camp, or any attendee's safety or comfort, including behavior that impedes or prevents accessibility, safety, services, or requests, behavior that discriminates based on age, ability, race, ethnicity, gender, religion, political or institutional affiliation, or sexual orientation, and harassment of any kind, is strictly prohibited and may result in removal from Camp and being barred from returning without refund. Such violations may be reported to legal authorities. If you experience disruptive or discriminatory behavior at Camp, please report the issue to a T4A staff member or email a complaint to aaraya [at] smartgrowthamerica.org. If you witness a crime or have an emergency that requires the police, please call 911.
Learn more about last year's Camp
Thank you for sponsoring TransportationCamp DC!
Thank you to our sponsors Lyft, Hayden AI, Uber, and WGI for making TransportationCamp possible. Learn more about opportunities to sponsor the event here.