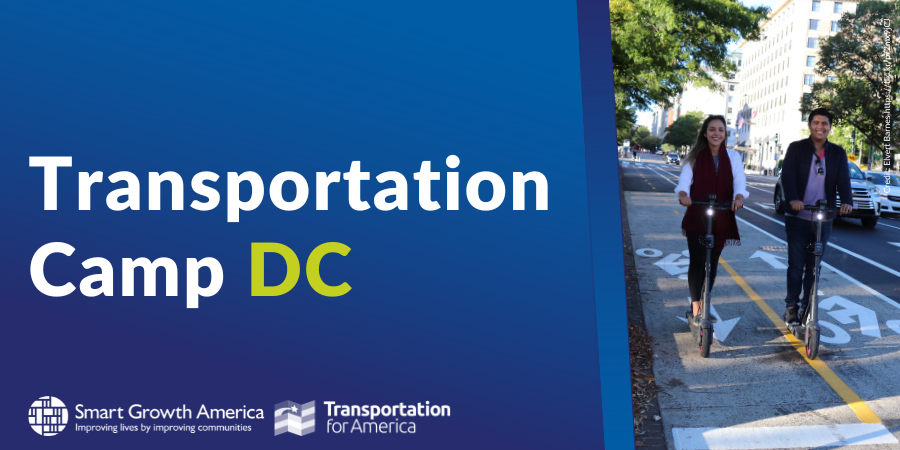 About TransportationCamp
An annual "un" conference, TransportationCamp DC invites participants to create the program by proposing and facilitating sessions on topics of their choice. For the first time, 2023's Camp included both virtual and in-person programming to bring together attendees from across the country to collaborate and learn.
TransportationCamp DC is one of many TransportationCamps held across the country annually, each led by a different organization. See the full range of Camps across the country at transportationcamp.org.
Click below to learn more about TransportationCamp DC 2023, held at Van Metre Hall on George Mason University's Arlington campus.
Watch the recordings
2023 included two opportunities for virtual and in-person attendees to participate together: the keynote delivered by Shabazz Stuart, a transportation advocate and CEO of Oonee, and a panel discussion on data with Greg Rogers (The Mobility Podcast), Avery Ash (INRIX), Ting Ma (Washington DC Department of Transportation), Ivan Cheung (NTSB), and David Zipper (Visiting Fellow, Harvard Kennedy School). The panel was presented by TransportationCamp Platinum Sponsor INRIX.
Thank you TransportationCamp 2023 sponsors and partners!
Thank you to our sponsors INRIX, Uber, Lyft, Hayden AI, WGI, and itselectric, as well as our partners the Parking Reform Network, Greater Greater Washington, the Coalition for Smarter Growth, and Young Professionals in Transportation, for making TransportationCamp possible.