TransportationCamp 2022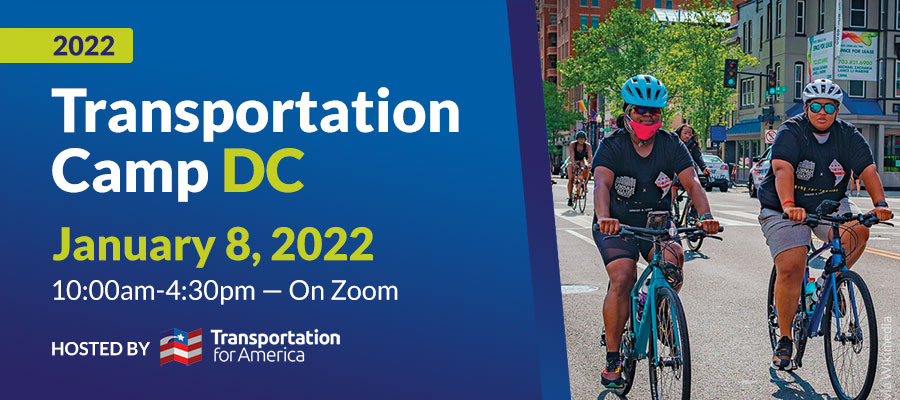 2022's TransportationCamp DC is coming! On Saturday, January 8, 2022, people working on transportation issues here in the DC region and in federal programs are invited to come together for this annual unconference focused on transportation practice, organizing, and innovation.
This year's virtual TransportationCamp will take place during a unique moment. After nearly two years of pandemic shutdown, traffic congestion is steadily returning in the DC region and with it increasing incidents of traffic violence. At the same time, Congress just passed a once-in-a-generation infrastructure package that will allow federal agencies to invest in transportation in new and badly needed ways.
This event's program is created by participants. TransportationCamp is an unconference, which means participants get to propose the sessions to hold.
Whether you're working on transportation in the DC region or at the federal level, join TransportationCamp DC to connect with advocates, experts, and organizers and renew your work to make transportation work better for all of us.
Register now or before 9:30 a.m. ET on January 8 to receive your Zoom link! The email will have the subject line "Smart Growth America invited you to register for 2022 TransportationCamp DC." Click register, and follow the steps. In order to join the event, you will need to log into a Zoom account with the email you used to register for the event. If you do not receive your Zoom link by 9:35 a.m. ET on January 8, please contact Abi at abigail.grimminger@t4america.org.



Schedule
10:05-10:15: Welcome
10:15-10:45: Opening remarks and keynote by Kim Lucas
10:45-11:45: Period 1
12:00-1:00: Period 2
1:10-2:10: Lunch discussion hour!
2:15-3:15: Period 3
3:30-4:30: Period 4
A resource from our sponsors
We won't be able to gather in-person this year, but that doesn't mean you can't get outside and explore DC. TransportationCamp sponsor Nelson\Nygaard created a bike route that follows many of the new protected bike lanes near the northwest and northeast areas of DC. Start at the National Mall and finish at Union Station. View the map.
In addition to the route above, William Handsfield at DDOT also recommended the following advisory bike lanes in the Capitol Hill area.
E Street SE between 12th and 17th streets SE
Tennessee Ave NE from East Capitol Street to 15th Street
Kentucky Ave SE from East Capitol Street to 17th Street
No matter how you choose to explore DC, please be aware that roads, sidewalks, and bike lanes could be slippery due to winter weather. Use caution as you travel.
Thank you to our sponsors and partners!