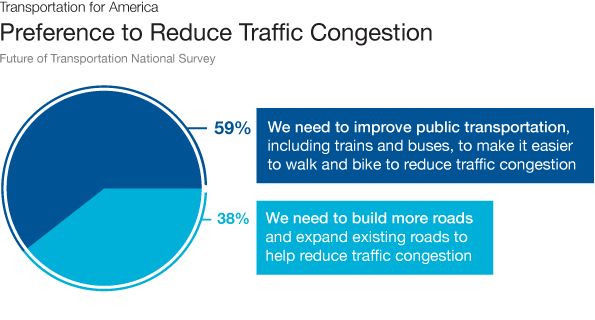 American voters overwhelmingly support broader access to public transportation and safe walking and biking, according to this new national poll conducted for Transportation for America.
Expand and improve public transportation
More than four-in-five voters (82 percent) say that "the United States would benefit from an expanded and improved transportation system, such as rail and buses" and a solid majority (56 percent) "strongly agree" with that statement. This is a widely held view with overwhelming majorities of voters in every region of the country and in every type of community. Fully 79 percent of rural voters agreed with the statement, despite much lower use of public transportation compared to Americans in urban areas.
When asked about reducing traffic congestion, three-in-five voters choose improving public transportation and making it easier to walk and bike over building more roads and expanding existing roads (59% to 38%).
Americans want better access to expanded transportation options
On a personal level, two-thirds (66%) say that they "would like more transportation options so they have the freedom to choose how to get where they need to go." Along these same lines, 73% currently feel they "have no choice but to drive as much as" they do, and 57% would like to spend less time in the car.
One-in-five voters have used public transportation – either bus, rail or ferry – in the last month (19%) in order to go to school, work run errands or go shopping. In addition, 44% say they have walked and 13% say they have biked for non-recreation purposes.
Among those who have not taken a bus, train or ferry in the last month for those purposes, the primary reason cited is that it is simply not available in their community (47%), while another 35% say it is not convenient to their work, home or school (35%). Only 8 percent said they simply preferred to drive.

Should we spend more on public transportation?
Voters are fairly accurate in their assessment of how many cents out of every federal transportation dollar currently fund public transportation, with 19 cents the average estimate of current spending (compared to 17 cents in reality).
These same respondents would prefer to almost double the allocation to public transportation, saying that 37 cents of every federal transportation dollar is what they think should be the norm. Fully 59% of the electorate cite some amount that is greater than what the federal government currently spends (18 cents or greater).
How should we spend existing transportation dollars?
After those respondents were informed that currently 80 cents out of every federal transportation dollar goes to highways, while 17 cents is used for public transportation such as such as trains, rail, ferries and buses around the country, and the remainder for other transportation needs." A majority (58 percent) say that more should be allocated to public transportation, while 35% feel that this is about the right amount. Only 5% say that less should be allocated to other transportation options.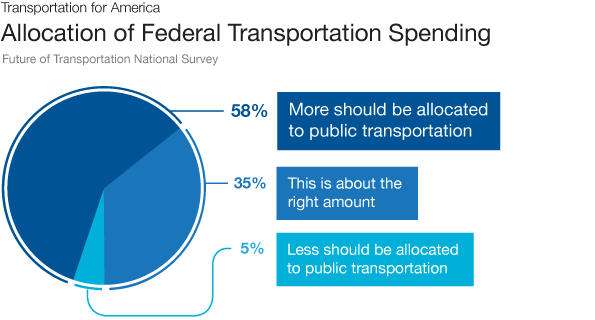 The bottom line
American voters have a strong and broadly shared desire to expand the transportation options available to them, and for the federal government to take a more active role in financially supporting a wide range of transportation options – including public transportation, biking, and walking.
Send the results of this poll directly to your representatives in Congress.
You can view the slide presentation here: