The Fix We're In For:
2013

Bridge Conditions
Select a state: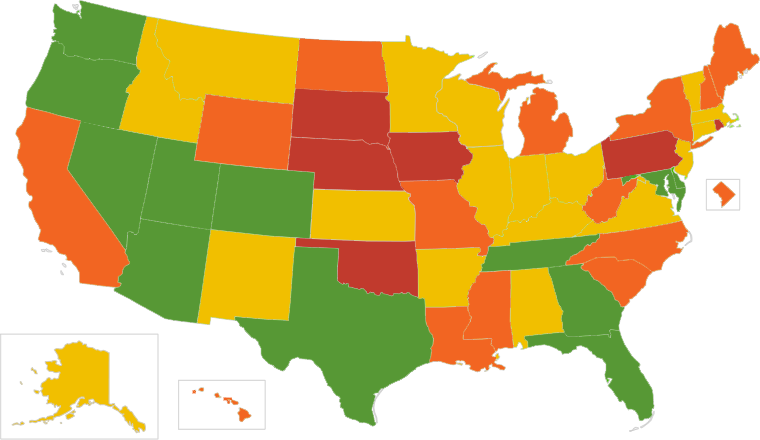 2015

State Reports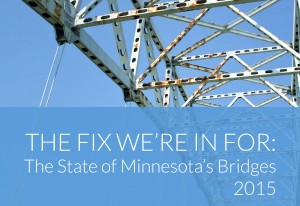 Click to view this 2015 state report for Minnesota. Released April 30, 2015
Visualizing the 2013 numbers
Click to see the infographic, learn more, and share it with your friends.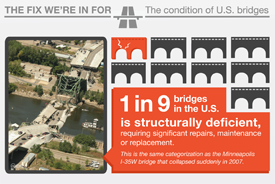 Click for more details about the data.
The 2013 National Report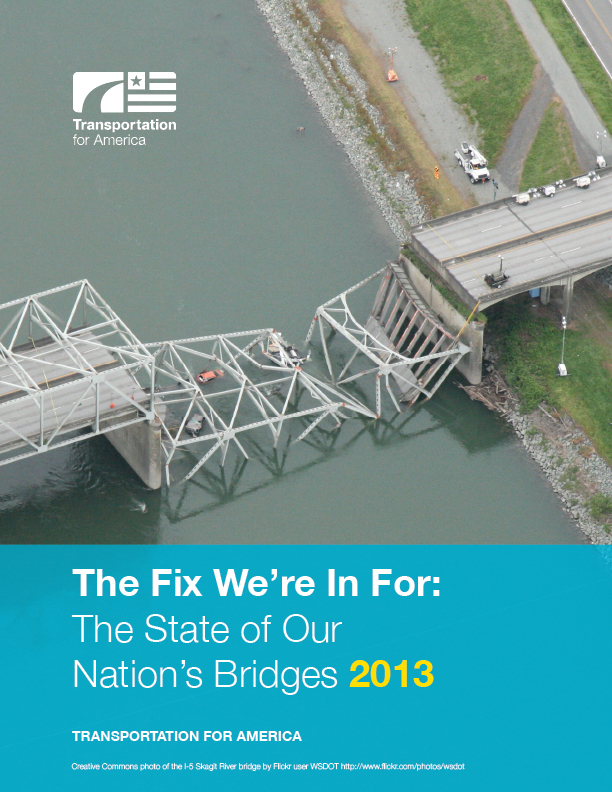 Read the last national report from 2013. 11 percent of all U.S. highway bridges are structurally deficient— bridges requiring significant maintenance, rehabilitation or replacement.
Tell Congress to fix it.
Add your name to the growing list of Americans calling on Congress to fix it for America and give us safe, affordable and timely transportation options that we need
2013: U.S. states, ranked by percentage of deficient bridges
| State | Rank | Total bridges | Total deficient | Percent deficient | Change in deficient bridges over 2011 | Percent change in deficient bridges since 2011 | Average age - all bridges | Average age - deficient bridges | Average daily traffic on deficient bridges |
| --- | --- | --- | --- | --- | --- | --- | --- | --- | --- |
| National Totals | | 604,995 | 66,405 | 11.0% | | | 43 | 65 | 259,201,931 |
| Pennsylvania | 1 | 22,667 | 5,543 | 24.5% | -500 | -8.3% better | 54 | 75 | 18,994,224 |
| Oklahoma | 2 | 23,778 | 5,382 | 22.6% | +77 | 1.5% worse | 46 | 64 | 7,236,161 |
| Iowa | 3 | 24,465 | 5,191 | 21.2% | -249 | -4.6% better | 44 | 69 | 1,728,828 |
| Rhode Island | 4 | 754 | 156 | 20.7% | -7 | -4.3% better | 55 | 66 | 2,598,405 |
| South Dakota | 5 | 5,869 | 1,208 | 20.6% | +10 | 0.8% worse | 46 | 69 | 354,303 |
| Nebraska | 6 | 15,391 | 2,778 | 18.0% | -42 | -1.5% better | 44 | 71 | 724,206 |
| North Dakota | 7 | 4,445 | 746 | 16.8% | +19 | 2.6% worse | 45 | 69 | 95,368 |
| New Hampshire* | 8 | 2,429 | 362 | 14.9% | -21 | -5.5% better | 52 | 74 | 1,796,425 |
| Maine | 9 | 2,408 | 356 | 14.8% | -33 | -8.5% better | 50 | 69 | 924,423 |
| Missouri | 10 | 24,072 | 3,502 | 14.5% | -640 | -15.5% better | 43 | 71 | 5,156,617 |
| Mississippi | 11 | 17,053 | 2,414 | 14.2% | -299 | -11.0% better | 33 | 45 | 1,401,786 |
| Wyoming | 12 | 3,101 | 426 | 13.7% | +19 | 4.7% worse | 40 | 51 | 871,031 |
| Louisiana | 13 | 13,258 | 1,798 | 13.6% | +51 | 2.9% worse | 37 | 48 | 4,588,616 |
| West Virginia | 14 | 7,089 | 952 | 13.4% | -73 | -7.1% better | 40 | 68 | 2,325,812 |
| Hawaii | 15 | 1,146 | 152 | 13.3% | +8 | 5.6% worse | 60 | 79 | 1,862,562 |
| District of Columbia | 16 | 242 | 31 | 12.8% | 0 | no change | 60 | 59 | 915,533 |
| New York | 17 | 17,420 | 2,170 | 12.5% | +61 | 2.9% worse | 47 | 67 | 17,374,731 |
| Michigan | 18 | 11,000 | 1,354 | 12.3% | -185 | -12.0% better | 43 | 64 | 7,542,647 |
| South Carolina | 19 | 9,252 | 1,127 | 12.2% | -105 | -8.5% better | 42 | 55 | 3,397,465 |
| California | 20 | 24,797 | 2,978 | 12.0% | -278 | -8.5% better | 47 | 54 | 67,603,788 |
| North Carolina | 21 | 18,280 | 2,195 | 12.0% | -167 | -7.1% better | 38 | 54 | 7,850,103 |
| Alaska | 22 | 1,173 | 128 | 10.9% | -18 | -12.3% better | 32 | 47 | 178,675 |
| Indiana | 23 | 18,753 | 2,030 | 10.8% | +35 | 1.8% worse | 42 | 68 | 7,199,952 |
| Vermont | 24 | 2,726 | 288 | 10.6% | -56 | -16.3% better | 56 | 76 | 426,822 |
| Kansas | 25 | 25,206 | 2,657 | 10.5% | -176 | -6.2% better | 48 | 75 | 812,743 |
| New Jersey | 26 | 6,557 | 651 | 9.9% | -31 | -4.5% better | 52 | 79 | 11,285,681 |
| Connecticut | 27 | 4,196 | 406 | 9.7% | +16 | 4.1% worse | 50 | 65 | 5,274,701 |
| Massachusetts | 28 | 5,132 | 495 | 9.6% | -70 | -12.4% better | 57 | 76 | 9,151,876 |
| Idaho | 29 | 4,213 | 397 | 9.4% | +13 | 3.4% worse | 41 | 58 | 565,589 |
| Ohio | 30 | 27,002 | 2,462 | 9.1% | -327 | -11.7% better | 43 | 69 | 9,223,025 |
| Virginia | 31 | 13,769 | 1,251 | 9.1% | -21 | -1.7% better | 44 | 65 | 7,393,364 |
| Minnesota | 32 | 13,109 | 1,191 | 9.1% | +40 | 3.5% worse | 37 | 67 | 2,342,495 |
| Alabama | 33 | 16,071 | 1,448 | 9.0% | -160 | -10.0% better | 43 | 60 | 2,368,186 |
| Kentucky | 34 | 14,028 | 1,247 | 8.9% | -72 | -5.5% better | 42 | 58 | 4,416,436 |
| Illinois | 35 | 26,514 | 2,311 | 8.7% | +22 | 1.0% worse | 40 | 70 | 8,035,705 |
| Wisconsin | 36 | 14,094 | 1,151 | 8.2% | -2 | -0.2% better | 36 | 67 | 2,923,488 |
| New Mexico | 37 | 3,924 | 307 | 7.8% | -25 | -7.5% better | 44 | 56 | 719,135 |
| Montana | 38 | 5,120 | 399 | 7.8% | -8 | -2.0% better | 43 | 59 | 503,175 |
| Arkansas | 39 | 12,648 | 899 | 7.1% | -50 | -5.3% better | 39 | 52 | 1,526,375 |
| Maryland | 40 | 5,286 | 364 | 6.9% | -3 | -0.8% better | 45 | 66 | 5,344,961 |
| Colorado | 41 | 8,578 | 566 | 6.6% | -18 | -3.1% better | 36 | 58 | 4,711,767 |
| Delaware | 42 | 862 | 53 | 6.1% | +3 | 6.0% worse | 41 | 44 | 323,720 |
| Georgia | 43 | 14,730 | 878 | 6.0% | -75 | -7.9% better | 41 | 57 | 2,319,651 |
| Tennessee* | 44 | 20,268 | 1,195 | 5.9% | -41 | -3.3% better | 39 | 53 | 4,885,931 |
| Oregon | 45 | 7,631 | 433 | 5.7% | -30 | -6.5% better | 42 | 56 | 1,484,388 |
| Washington | 46 | 7,806 | 362 | 4.6% | -38 | -9.5% better | 43 | 61 | 2,925,184 |
| Utah | 47 | 2,941 | 126 | 4.3% | -7 | -5.3% better | 34 | 53 | 880,780 |
| Arizona | 48 | 7,830 | 247 | 3.2% | +14 | 6.0% worse | 40 | 59 | 1,837,167 |
| Texas | 49 | 52,128 | 1,337 | 2.6% | -325 | -19.6% better | 40 | 54 | 3,068,190 |
| Nevada | 50 | 1,797 | 40 | 2.2% | +1 | 2.6% worse | 31 | 58 | 146,557 |
| Florida | 51 | 11,987 | 265 | 2.2% | -35 | -11.7% better | 36 | 53 | 1,583,178 |