We've previously written about how Amtrak passenger rail, new public transit construction and the innovative TIGER program just had their budgets slashed in sequestration at a rate five times higher than traditional highway programs. That was due to the fact that those programs generally get their money from the general fund, and highways are funded through a protected trust fund. (Read that linked post for the details.)
There's no way to prevent those cuts this year, but the Senate's new budget for the next ten years — the first they've approved in years — lays the groundwork to create dedicated funding for transit, passenger rail and the innovative competitive TIGER projects, as well as generating new revenues for transportation.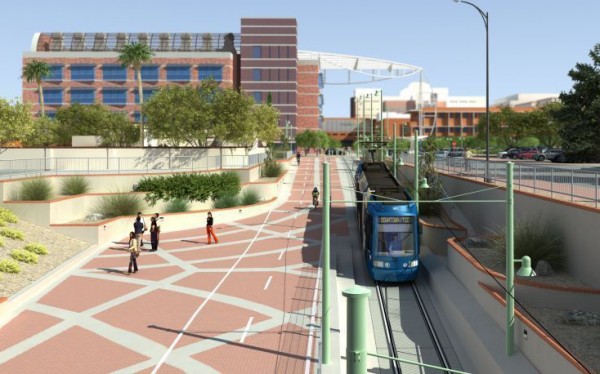 The Tucson, Arizona streetcar is being funded both by a TIGER grant and New Starts money
Can you take a minute to thank the Senate for recognizing the importance of 21st century transportation investments and urge Congress to build on this budget and find new revenues for transportation while protecting these important programs?
At a time when transportation funds aren't keeping pace with what we need to maintain AND build, the Senate's bold plan could very well become the foundation to raise new money for transportation and create dedicated revenues for programs that help give us new options for how to get around.
Sequestration disproportionately cut the very programs that do the most to provide all of us with more ways to get around — new streetcars or bus rapid transit lines, competitive TIGER grants for innovative projects all over the country, and passenger rail that's continuing to break ridership records.
The Senate's plan could be the beginning of a new unified trust fund or a tax reform plan that raises new money for transportation — which could help protect these programs from these kinds of disproportionate cuts they just received.
So let's make sure that the Senate and the House know that we need to both increase investments in transportation and protect the money that gives us more options for how to get around.