Stories tagged with
vmt
Click on a story title to read that post. Posts are ordered chronologically from newest to oldest.
What happens when driving rates continue to drop?
May 14, 2013
By David Goldberg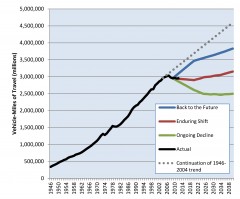 The typical American drives less today than at the end of Bill Clinton's first term and the millennial generation (16-34) is leading the charge. But how likely is that trend to hold in the future? And if it does, what does that say about what we should be building, and how we will pay for it, if not with the gas taxes raised from driving? A game-changing new report seeks to answer the first question, and to fuel a conversation about the second.
Young people leading the downward trend in driving, report finds
April 5, 2012
By David Goldberg
A fascinating new report from U.S. PIRG, "Transportation and the New Generation: Why Young People Are Driving Less and What It Means for Transportation Policy" examines a phenomenon many thought we'd never see: A drop in miles driven by those traditionally most eager to drive, young people recently eligible to drive. From the report: From World [...]
USA Today article cites new data showing drop in auto commuting
September 23, 2009
By Sean Barry
A yearly census survey released Monday illustrates the continuation of a trend that started well before the recession: Americans are taking steps to reduce their dependence on cars, and are looking for other options for getting around. Rates of solo driving and car ownership are dropping, according to this story in the USA Today about [...]
Driving down in 2008, congestion down much more
July 8, 2009
By Stephen Lee Davis
Due to the impact of high gas prices, the economic slowdown, and a growing preference for public transportation and other options for getting around, congestion was down in 2008 over 2007, marking the first two-year decrease in congestion since the Texas Transportation Institute began keeping track in 1982. Today, TTI released their bi-annual Urban Mobility Report today on the state of congestion and traffic in the U.S.
Breaking Down the Blueprint: Energy Efficiency and Energy Security
June 3, 2009
By Andrew Bielak
In our continuing series, we examine the third of our six national objectives for the transportation bill. Transportation for America believes that the push to make our country less dependent on oil begins with a smarter, cleaner transportation system, and for this reason we've made one our top national transportation objectives to promote energy efficient and achieve energy security.
Today's Headlines — 05/27/09
May 27, 2009
By Andrew Bielak
Not everyone is happy with U.S. Transportation Secretary Ray LaHood's support for more transportation options and less overall driving. (thenewspaper.com) New York Times columnist Bob Herbert throws his support behind an infrastructure bank to help stimulate the economy. Decline in advertising sales causes more financial pain for New York City's transit agency. (New York Times)
Transportation Secretary affirms smart principles for US transportation system
April 29, 2009
By Stephen Lee Davis
"Livable and Sustainable Communities" might not be at the top of the list of what one would expect to hear from the person in charge of how the Federal government spends our tax dollars on all forms of transportation — ports, railroads, highways, interstates, sidewalks, bike lanes and more — but that's exactly what Transportation Secretary Ray LaHood named as a primary goal for DOT.
Highway deaths are plummeting — can we make the drop permanent?
April 7, 2009
By Andrew Bielak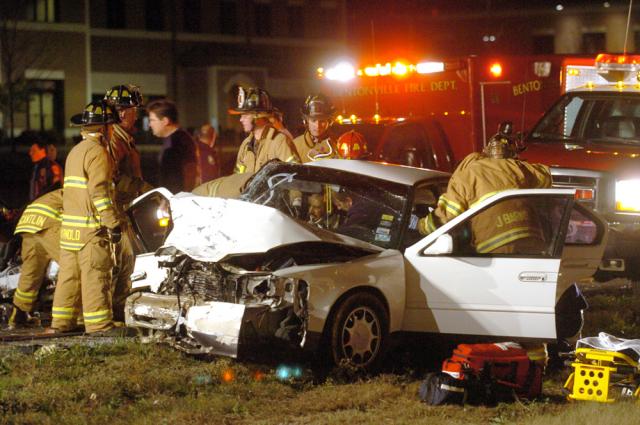 A new release from the Federal Highway Administration shows that in 2008, a total of 37,313 people died in vehicles crashes, a nine percent decrease from the previous year and the lowest overall level in nearly 50 years. That means that almost 4,000 fewer people died in car crashes last year than in 2007. What can we do to keep this number trending downwards?
We drive less, but roads are still full, Chicago-area study says
October 14, 2008
By Andrew Bielak
A new study by the Chicago Metropolitan Agency for Planning shows that while total miles of car travel in the Chicago area has dropped by nearly five percent since last year, congestion in the region has managed to get worse. (Chicago Tribune — Jon Hilkevitch)
'Pay as you drive' rolls forward
September 3, 2008
By Andrew Bielak
California's insurance commissioner pushes a proposal to allow drivers to pay insurance rates that go up or down depending on how much they drive. (San Francisco Examiner — Tamara Barak Aparton)