Stories tagged with
its
Click on a story title to read that post. Posts are ordered chronologically from newest to oldest.
T4 teams up with fiscally conservative groups to promote innovative transportation solutions
May 16, 2011
By Sean Barry
Transportation for America partnered with Taxpayers for Common Sense and the Reason Foundation — not a trio you're accustomed to seeing — on a report detailing innovative and cost-effective transportation solutions with the potential to command broad support in a divided Congress. The jointly written report, The Most for Our Money: Taxpayer Friendly Solutions for the [...]
Could an "oil security fee" and increased transportation options ensure better energy security?
November 30, 2010
By Sean Barry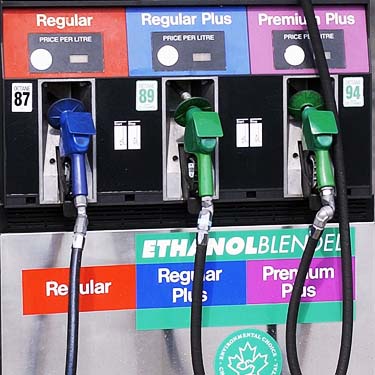 America's reliance on oil, particularly by our thirsty transportation system, comes with numerous costs that do not always show up at the pump, as well as the heavy dependence on foreign sources to sell us most of the oil we need to keep things moving each day.
New report shows how smart technology can ease traffic congestion, improve transportation options and strengthen global competitiveness
October 7, 2010
By Stephen Lee Davis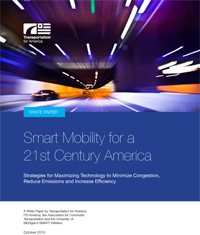 A new report demonstrates how existing and emerging technologies can squeeze more capacity from over-burdened highways, help commuters avoid traffic delays and expand and improve transportation options, all while saving money and creating jobs. "Smart Mobility for a 21st Century America" shows why improving efficiency through technology is critical as our population grows and ages, budgets tighten and consumer preferences shift.
Business Leaders Emphasize Economic Potential of a Renewed Vision for the Nation's Transportation Program
May 6, 2010
By Transportation for America
Business and transportation industry leaders today joined Transportation for America for a briefing on Capitol Hill to underscore the potential of a reformed, multi-year transportation bill to boost the economy and create lasting jobs across the country. Business leaders from Siemens, IBM and the Silicon Valley Leadership Group, which represents more than 300 major companies in the Silicon Valley including Yahoo!, Microsoft and AT&T, highlighted the power of new and innovative policies to revolutionize the transportation sector, make our country more economically competitive for the 21st century and provide working Americans the affordable options they need to get to their jobs every day.
IBM imagines a smarter planet with smarter transportation
March 4, 2010
By Sean Barry
"The systemic nature of urban transportation is also the key to its solution. We need to stop focusing only on pieces of the problem: adding a new bridge, widening a road, putting up signs, establishing commuter lanes, encouraging carpooling or deploying traffic copters. Instead, we need to look at relationships across the entire system—and all [...]
Can we cut the carbon emissions from transportation in half by 2050?
July 30, 2009
By Stephen Lee Davis
If we're serious about reducing CO2 emissions, with nearly a third (28%) of our greenhouse gas emissions coming from the transportation sector, the question won't be should we try to get cuts from transportation, but rather, what cuts can we get from transportation?' A new report released Wednesday morning studies that question in depth and demonstrates how we can clean the atmosphere while also reducing our oil dependency, expanding our options for living and getting around and making transportation more affordable overall.
A smarter transportation system begins with smarter technology
May 7, 2009
By Andrew Bielak
When filmmakers envision the future of our transportation system, they often seem to come up with one enduring image — millions of layers of flying cars breezing effortlessly through impossibly dense cities, surrounded by mile-high skyscrapers. There's a good chance the future may not look quite so, well, futuristic. But that doesn't mean that advanced computer technology — namely, wireless networks known as Intelligent Transportation Systems that feed through our transportation infrastructure — won't have a huge role to play in helping move people and goods safer, more efficiently, and with less pollution in the 21st Century.