Webinar: All aboard? The future of federal passenger rail funding
Tuesday, March 28th: How will the President's budget & Congress' appropriations process impact passenger rail?
Posts Tagged "financing"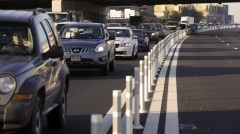 More than a third of all U.S. states have plans of some sort to raise new money for transportation to help cover yawning budget shortfalls and keep up with maintenance and new construction of their state transportation networks. NPR picked up that story this week and talked to T4 America director James Corless about the growing trend of states stepping out on their own to raise their own money for transportation to augment the federal funding that did not increase with the last transportation bill.