Factors for Success
Seven noteworthy strategies and factors contributed to the success of campaigns in many states:
Support for local priorities
Ensuring transparency and accountability
Bridging the rural-urban divide
Leadership from the governor
Building a broad coalition
Creating new revenue mechanisms
Developing effective messages and messengers
Click on a numbered tab to read about each factor.
Winning support by addressing local priorities
In most states the bulk of transportation decisions are made by the state department of transportation or transportation commission. Too often, these bodies prioritize large-scale state priorities and leave local leaders with little say over funding to realize innovative local and regional solutions. Moreover, state funding is often restricted to certain types of projects, leaving many local priorities without a funding source.
As a result, voters and their local leaders may be skeptical that any increase in transportation revenue at the state level will be spent on local priorities that strengthen local economies and quality of life. One innovative way to counter this skepticism is to establish a pot of money and allow communities to compete for grants to support their most important priorities, regardless of mode. This gives local communities control over a certain portion of funding raised and the ability to clearly see how the revenue in the broader package will help them. Competition requires applicants to sharpen their plans and build a broad base of support.
In Pennsylvania, for example, legislators passed a funding package in 2013 that created a Multimodal Fund to provide competitive grants to communities for projects including roadways, freight rail, passenger rail, ports and waterways, bicycle and pedestrian facilities and aviation infrastructure. The inclusion of the Multimodal Fund in the larger revenue bill allowed all communities in Pennsylvania to see a potential funding source for their priority projects, broadening support for the overall legislation.
Indiana took a different approach toward similar ends: Proponents of new funding for the Indianapolis region asked legislators to allow them to raise their own revenue through a local-option tax at the ballot box, rather than seeking funding from the state.
Establishing transparency and accountability
When most transportation decisions are made by state bureaucracies, citizens often get little explanation of why particular projects were funded and others were not. It is challenging to develop public support for new transportation funding when voters have no certainty that those funds will be put to the best possible use. One emerging strategy to address this issue is the adoption of performance measurement into transportation programs. Measuring and reporting on the performance of transportation projects demonstrates to the public what they are getting for their tax dollars and can help to create public trust in a program that is a mystery to many.
In 2013 Massachusetts passed a package of new transportation funding sources. The legislation also created a new process for selecting projects, creating a panel with appointees from the legislature, governor and state municipal league to develop measurable criteria that MassDOT will use to score, rank and prioritize projects.
Virginia legislators last year acted to strengthen support for transportation funding with a bill creating a transparent process for prioritizing projects and measuring success. The accountability measure requires the Commonwealth Transportation Board to evaluate and rank the safety, accessibility, environmental quality, congestion mitigation and economic development benefits of transportation projects in Virginia.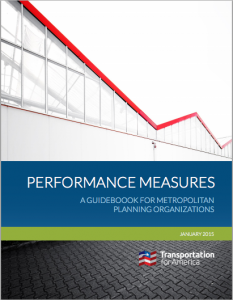 A helpful T4America report on performance measures will be available in February 2015. Click here or above to find out more before it releases.
Bridging the rural-urban divide
To be successful in passing legislation to raise revenue, legislators must have broad support from their colleagues. This requires legislative champions to demonstrate that their package will meet needs across the state, in communities of all types. Bridging the gap between the transportation needs of urban and rural communities is often one of the hardest but most critical aspects of developing transportation revenue packages.
Failure to address this issue can scuttle funding proposals. In August 2014, Missouri voters rejected a ballot measure that would have raised the state sales tax from 4.25 cents to 5 cents for ten years, primarily to rebuild interstate 70. The main
supporters of the ballot measure included highway construction contractors, labor unions, engineering firms and others with a financial stake in the outcome. Opponents of the ballot measure included Gov. Nixon and a range of stakeholder groups. One of those groups, Missourians for Better Transportation Solutions, raised concerns that the state's two major population centers, St. Louis and Kansas City, would receive only a small share.

On the other hand, demonstrating value across diverse regions of the state helps build broad support.
For example, Pennsylvania's Multimodal Fund, as discussed above and in the detailed Pennsylvania case study, helped communities in both metropolitan and rural areas gain a funding source directly available to them. At the same time, new funding specifically directed to rural, low traffic roads and to transit won support across the geographically diverse commonwealth.
in Virginia, legislators bridged regional divides and addressed the greater need in urban areas by raising additional revenue from these regions to be spent locally, and also by allowing different weights for project selection factors to be used in different areas to more closely match the particular needs of urban and rural regions of the commonwealth.
Leadership from the top
Strong leadership from the governor and legislative leaders can be a critical factor in advancing new transportation funding. When a governor makes transportation funding a signature issue and follows up with a true willingness to work with the legislature on a solution, it sends a strong message that transportation investment is a priority that is being taken seriously. Moreover, in cases where the governor and at least one branch of the legislature are not from the same party, transportation can be lifted from the realm of partisan politics, providing cover for legislators of all parties to support it.
In Massachusetts, Maryland, Michigan, Vermont, Virginia, and Wyoming — all states that have recently passed new transportation funding legislation — governors were strong, vocal advocates for transportation funding. On the other hand, in Missouri, Gov. nixon's public opposition contributed to defeat at the ballot box.
Building a broad coalition
A common feature among successful transportation revenue packages is support from a broad coalition of stakeholders throughout the state. A broad coalition enables proponents to reach a variety of legislators and to demonstrate how the investment will benefit a wide range of constituencies, including the business community, local elected officials, transportation trades, and environmental, faith-based and public health constituencies.
For example, in Pennsylvania the Keystone Transportation Funding Coalition came together to advocate collectively for increased investment in transportation. Membership included:
Regional chambers of commerce from across the state
10,000 Friends of Pennsylvania
AARP
Health advocacy groups, like the American Heart Association
Pennsylvania chapters of trade associations with a stake in designing and building transportation projects
Community development organizations from across the state
Regional transit and rail providers
Labor unions
Local organizations supporting investment in bike and pedestrian infrastructure
With such wide-ranging representation in the coalition, members of the state legislature heard about the benefits of the legislation from many different perspectives, giving them certainty that they could support the legislation with support from many stakeholders.
Creating new revenue mechanisms
Traditionally, transportation revenue has come from gasoline taxes, typically seen as a user fee — those that use the roads pay for them directly via the gasoline they buy. While a few states, such as Vermont and Wyoming, have succeeded in raising their gas taxes, other states have found success by broadening their revenue base. Using new revenue sources can overcome the knee-jerk opposition that might arise to proposing increases in the gas tax while still providing predictable and dedicated funding for transportation. For instance, Virginia eliminated its 17.5 cents-per-gallon gas tax, replacing it with an increase in the general sales tax for all products, excluding groceries, and a new wholesale tax on gas and diesel.
Another successful strategy is combining increases in a variety of taxes and fees into a single package, rather than continuing to rely on just one funding source. this strategy helps to reduce the amount of the increase needed in any single tax or fee. For example, Massachusetts raised new revenue primarily for transportation through a combination of gas taxes, vehicle fees, and unrelated taxes on other products such as tobacco.
There can be pitfalls in diversifying transportation funding, however; Massachusetts' package also raised taxes on certain business software. but once passed, the new software tax drew the ire of the state's important technology sector and was quickly repealed before taking effect.
Developing effective messaging and the right messengers
Effective messaging on transportation investment was crucial in all states that successfully raised revenue. Focusing on the economic benefits that come from investing in transportation has been effective in both "red" and "blue" states. Successful advocates have honed their messages to not only lay out the dire state of transportation infrastructure in their state, but also to make the connection between infrastructure and the state's economic competitiveness.
Finding the right messengers is also critical. Transportation agencies have an important educational role to play in providing the data justifying the funding increase, but proper consideration should be given to whether or not the agency should lead the advocacy efforts. It can appear self-serving and the public often has a low level of trust in these agencies in certain states. in some states, business leaders are the best advocates to carry the message, while in other states mayors or county leaders might be more effective. perhaps the most effective are coalitions that link business, nonprofit and elected leadership.
In making the case for greater investment in transportation, Massachusetts' then-Governor Deval Patrick stressed the point that transportation investment enables economic development. The Transportation for Massachusetts coalition and other proponents focused their message on the economic value of better transportation options for communities across the state and highlighted both business and community voices.
The Let's Go VA campaign organized by the Virginia Transportation Construction alliance highlighted the adverse impact on Virginia's economic development caused by under-investment in the state's transportation infrastructure. The campaign pointed out that Virginia had lost its ranking as the "#1 state for business" and blamed the decrease mainly on state's neglected transportation system.
The campaign further pointed to the two million jobs in the state fully dependent on the transportation system. The Let's Go VA campaign also developed a message linking transportation investment to improved quality of life by pointing out that reducing congestion will ensure residents are able to spend more time with their families and reduce extra vehicle maintenance costs caused by roads in poor repair.