Stories tagged with
trains
Click on a story title to read that post. Posts are ordered chronologically from newest to oldest.
High speed rail grantees awarded, was your state included?
January 28, 2010
By Stephen Lee Davis
As you may have heard by now, President Obama is following up his favorable mention of high speed rail in last night's State of the Union Last with a Tampa event in Tampa to announce the winners of federal grants for high speed rail service. (In case you missed our official statement about the announcement, read that here.) The President is due to make his announcement this afternoon but the list of awardees has already been released. So who were the big winners? Certainly Florida and California, who got the biggest grants, netting $1.25 and $2.3 billion respectively.
The invisible benefits of public transportation
August 10, 2009
By Stephen Lee Davis
Every morning in New York City, hundreds of thousands pass quickly and nearly invisibly through tunnels and across bridges into Manhattan's Central Business District via New York's well-traveled transit system. Though the sidewalks are still full of walkers and the streets full of cabs, buses, and cars, the real action is happening below the surface where the number of people traveling into the CBD is almost just beyond comprehension. Michael Frumin looked at the numbers at fruminator and tried to put it in perspective for you:
A day of air travel over North America, and what it means for rail
March 5, 2009
By Stephen Lee Davis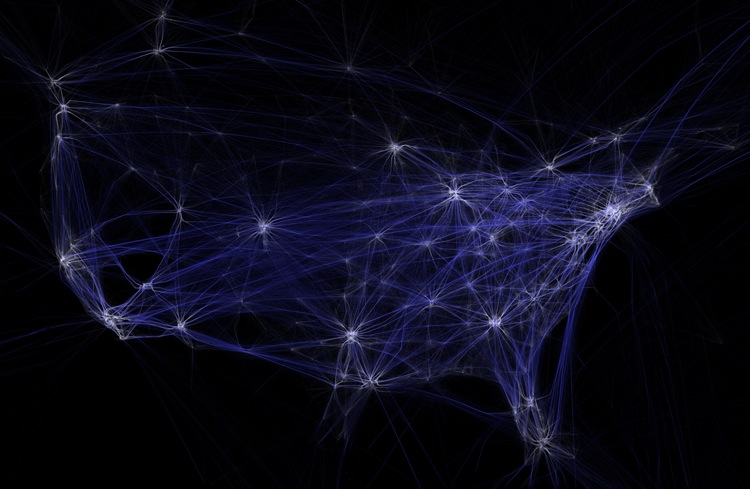 From Wired Magazine via Aaron of Streetsblog comes this amazing map and video that shows a day of air travel over North America. Using data from the Federal Aviation Administration and a service called FlightView that tracks airline travel each day, Artist Aaron Koblin created this Google map that shows 24 hours of airline travel on August 12, 2008. What does this have to do with rail travel?
Mass transit getting more crowded
October 1, 2008
By Andrew Bielak
A prolonged gas shortage in the South is prompting even more commuters to ride public buses and trains, and transit agencies are feeling the impact through longer lines and bigger crowds. (Atlanta Journal-Constitution –  Patrick Fox)