Stories tagged with
state of the union
Click on a story title to read that post. Posts are ordered chronologically from newest to oldest.
Perhaps next time the 70,000 deficient bridges should lead the speech?
February 21, 2013
By Stephen Lee Davis
The White House put out a press release on the President's plan for infrastructure that was introduced at the State of the Union last week, and though it's still short on details, it does start to paint a picture of what the President intends. The three major thrusts of the plan are investing in a "fix-it-first" policy, attracting private investment through a "Rebuild America Partnership", and a plan to cut red tape and speed up the timeframe for transportation projects.
President Obama calls for fixing 20th century infrastructure while building for the 21st
January 26, 2011
By Sean Barry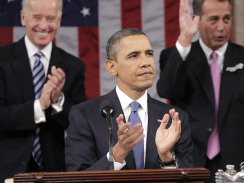 The theme of President Obama's State of the Union address last night was winning the future, and investing in America's infrastructure was an integral part of it. Other nations have outpaced our investment in roads and railways, and our own engineers have graded our infrastructure a "D," he noted.
Tell President Obama to call for smarter transportation policy tomorrow night
January 24, 2011
By Stephen Lee Davis
Since September 2009, Congress has passed one extension after another to the expired transportation law continuously punting difficult decisions about reforming the way we fund and build our transportation system. We've heard that President Obama is ready to change that and could be including a big push for a new transportation bill in tomorrow's State [...]
High speed rail grantees awarded, was your state included?
January 28, 2010
By Stephen Lee Davis
As you may have heard by now, President Obama is following up his favorable mention of high speed rail in last night's State of the Union Last with a Tampa event in Tampa to announce the winners of federal grants for high speed rail service. (In case you missed our official statement about the announcement, read that here.) The President is due to make his announcement this afternoon but the list of awardees has already been released. So who were the big winners? Certainly Florida and California, who got the biggest grants, netting $1.25 and $2.3 billion respectively.