Stories tagged with
ray lahood
Click on a story title to read that post. Posts are ordered chronologically from newest to oldest.
T4 thanks Oregon's leaders for helping green jobs find a home
July 1, 2009
By Stephen Lee Davis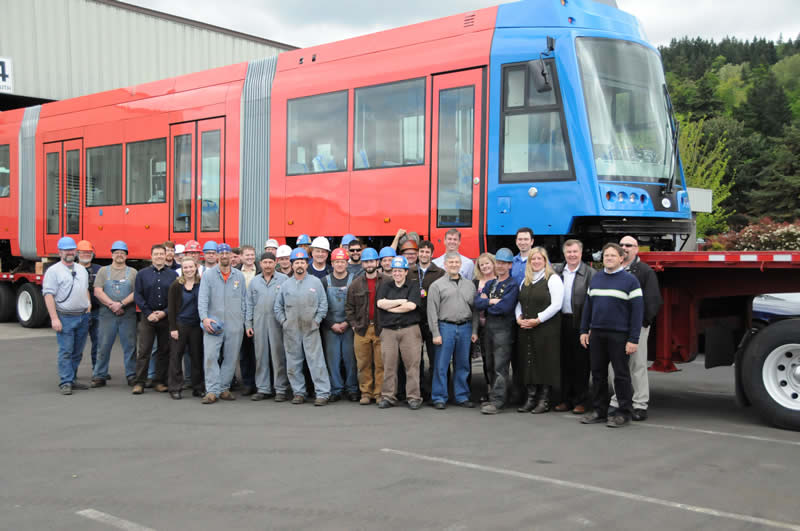 The first American-made streetcar in almost 60 years was unveiled to the public today in Portland, Oregon in a special ceremony today with transportation secretary Ray LaHood. To let everyone in Oregon know how significant Transportation for America thinks this event is, we took out an ad in The Oregonian today to congratulate Portland and their congressmen for making an investment in clean, green jobs in Portland.
Administration releases their principles for an 18-month transportation bill
July 1, 2009
By Stephen Lee Davis
When DOT Secretary LaHood was on Capitol Hill a few weeks ago discussing the Obama Administration's plan for a transitional transportation bill, he mentioned that their plan for an 18-month extension would "enact critical reforms" while stopping short of a fundamental overhaul of the program — leaving that for the full six-year bill. A lot of transportation advocates were left wondering what sort of reforms the administration would propose. Today we got a first look at their general proposal.
Today's Headlines — 05/27/09
May 27, 2009
By Andrew Bielak
Not everyone is happy with U.S. Transportation Secretary Ray LaHood's support for more transportation options and less overall driving. (thenewspaper.com) New York Times columnist Bob Herbert throws his support behind an infrastructure bank to help stimulate the economy. Decline in advertising sales causes more financial pain for New York City's transit agency. (New York Times)
Daily Headlines — 05/22/09
May 22, 2009
By Andrew Bielak
Transportation secretary Ray LaHood responds to criticism from columnist George Will during his appearance at the National Press Club. (Streetsblog) Community opposition kills a planned highway expansion in Los Angeles. (Los Angeles Times) The American Lung Association looks at the country's most polluted cities. (City Mayors)