Stories tagged with
innovation
Click on a story title to read that post. Posts are ordered chronologically from newest to oldest.
U.S. communities step up, hoping a strong federal commitment to infrastructure will follow
May 10, 2012
By Stephen Lee Davis
As Congress is finally close to passing a transportation bill more than 953 days after it first expired, many places have charged ahead with transportation funding and construction and are taking steps to make those needed investments today. But will they be enough without the strong federal partner we've had for the last 50 years leading the way? That remains to be seen, according to this compelling new report from the Urban Land Institute
Out of touch critics knock TIGER; and we launch a new interactive map of winners
October 22, 2010
By Stephen Lee Davis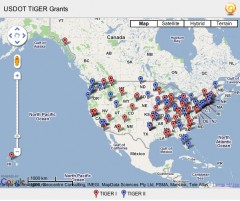 Earlier this week, the USDOT gave out $600 million in grants for innovative transportation projects across the country that address economic, environmental and travel issues at once. Not everyone was praising the TIGER program, with at least one critic blasting them as "anti-mobility grants." It begs the question, though: did they actually read through the list of winners? Also, we launched a new interactive map of all TIGER grant winners from February and October.