Stories tagged with
HR 7
Click on a story title to read that post. Posts are ordered chronologically from newest to oldest.
Graphic: The process of passing the transportation bill
May 17, 2012
By Stephen Lee Davis
As negotiations continue between the Senate's bipartisan transportation bill and the House's policy provisions, it's a good time to look once again at the process of drafting and passing a transportation reauthorization and see where things currently stand. Fortunately, we have this useful graphic from our Transportation 101 book that shows a simple view of how things usually proceed — complete with a "you are here" marker, just like a helpful wayfinding sign on a street corner.
Fixing the House bill: Cutting regulatory burdens and bureaucracy
March 15, 2012
By Stephen Lee Davis
The initial House bill proposed eliminating all dedicated funding for public transportation, ending a bipartisan agreement that's been in place since 1982. Though the current rumor is that the House will restore that funding after massive opposition from across the country, there are other provisions still in place that will cut funds from larger transit agencies, create unneeded bureaucracy, and also result in a fragmented system of moving freight.
Comparing the Senate and House transportation bills side-by-side
March 15, 2012
By Stephen Lee Davis
With the Senate having already approved their transportation bill and the House's proposal languishing, we thought it might be useful to share this detailed analysis and side-by-side comparison of the two bills. We've included links to past blog posts and statements about the various provisions of the two bills so that you can have all [...]
Bipartisan? Comparing the 2012 bills to past transportation bill votes
March 14, 2012
By Stephen Lee Davis
Today's 74-22 vote in favor of the Senate transportation bill was no anomaly, it was just one more in a long line of transportation bills that were approved by strong bipartisan majorities. All but one other recent transportation bill passed with votes in favor up over the 80 percent mark, and quite a few well over 90 percent support. Check out this graphic below of votes on the transportation bills since 1987 and how they compare to this year's effort in the House (and the Senate.)
Fixing the House bill: reducing air pollution by providing more travel options
March 13, 2012
By Stephen Lee Davis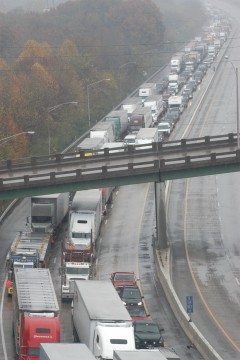 One of many issues that need to be fixed in the House's transportation bill is a plan to allow transportation money in a pollution-control fund to be used on new roadways for solo drivers. In 1991, Congress created a small program dedicated solely to helping communities deal with the negative side effects of over-reliance on major roads for rush-hour travel. A provision in the House's transportation bill opens that fund to construction of regular highway lanes.
GOP mayor, DOT chief, MTC head agree: Pass a bipartisan transportation bill
March 9, 2012
By David Goldberg
There's a timely and salient joint op-ed today in The Hill, from the Republican mayor of Oklahoma City, the transportation secretary for North Carolina, and the head of the Bay Area's Metropolitan Transportation Commission, calling on House leaders to tack toward bipartisan consensus in amending their transportation bill. House Speaker John Boehner has declared his [...]
As the House revamps HR7, several amendments that could help win passage
February 29, 2012
By David Goldberg
Last week, we published our list of the ten biggest reasons that opposition to the House transportation bill, HR7, was continuing to grow. At almost the same time, House Speaker John Boehner announced through a spokesman that his team would "revamp" the bill, to make it shorter in duration, possibly smaller in funding size and to scrap the plan to end dedicated funding for public transportation. That latter move should take care of one of the bigger concerns with HR 7 as initially proposed and House leaders could address most of the other issues by incorporating some of these bipartisan solutions to fix or improve critical aspects of the bill.
Breaking News: House leadership scraps 5 year transportation bill
February 23, 2012
By Stephen Lee Davis
The twitter feeds of those who follow the crossroads of transportation and D.C. politics just blew up a few minutes ago with news first broken by CQ's Kathy Wolfe (but linkable here at Roll Call) that Speaker Boehner and House Leadership have shelved their 5-year transportation bill in favor of a possible 2-year proposal — as well [...]
The more they see, the less they like: 10 reasons why opposition to the House transportation bill is growing
February 21, 2012
By Stephen Lee Davis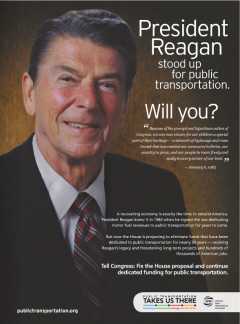 As the House prepares to take up its transportation bill next week, criticism is pouring in from a diverse range of individuals, groups, and elected officials; also drawing a rare veto threat from the Obama administration. As an editorial in New York's "Newsday" last week summed it up: "Bad on transit, bad on safety, bad on the environment." Here are 10 of the top issues with the House transportation bill drawing complaints from this diverse and growing chorus of opposition.
Votes in doubt, Speaker Boehner delays final action on HR7
February 15, 2012
By David Goldberg
A day after deciding to split the mammoth transportation-energy-federal pensions package that is HR7 into three parts in hopes of easier passage, House Speaker John Boehner this morning all but acknowledged that even the transportation portion lacks enough votes to ensure passage this week. The vote likely will not come until after next week's President's [...]