Stories tagged with
FREIGHT Act
Click on a story title to read that post. Posts are ordered chronologically from newest to oldest.
Fixing the House bill: Cutting regulatory burdens and bureaucracy
March 15, 2012
By Stephen Lee Davis
The initial House bill proposed eliminating all dedicated funding for public transportation, ending a bipartisan agreement that's been in place since 1982. Though the current rumor is that the House will restore that funding after massive opposition from across the country, there are other provisions still in place that will cut funds from larger transit agencies, create unneeded bureaucracy, and also result in a fragmented system of moving freight.
Senate committee takes positive steps for freight, multimodalism, performance and safer streets
December 14, 2011
By Stephen Lee Davis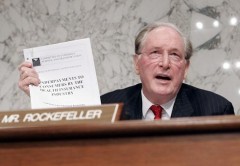 The Senate Commerce Committee passed a package of bills to create and implement goals and objectives for the overall transportation bill, update our federal freight transportation policy, and an amendment to help ensure that federal dollars help build streets that are safe for all users. These bills (including others not mentioned) represent the majority of this committee's contribution to the overall Senate transportation bill.
What does the FREIGHT Act really mean for our freight and ports?
July 23, 2010
By Stephen Lee Davis
The new FREIGHT Act introduced by Senators Lautenberg, Murray and Cantwell would create a truly multimodal national freight program for the first time in the U.S. It recognizes that our freight system should move our goods from coast to coast while also being part of the solution for many of our most pressing problems: air quality, dangerous emissions, oil dependence, and congestion on our highways and interstates.