Stories tagged with
CMAQ
Click on a story title to read that post. Posts are ordered chronologically from newest to oldest.
Comparing the Senate and House transportation bills side-by-side
March 15, 2012
By Stephen Lee Davis
With the Senate having already approved their transportation bill and the House's proposal languishing, we thought it might be useful to share this detailed analysis and side-by-side comparison of the two bills. We've included links to past blog posts and statements about the various provisions of the two bills so that you can have all [...]
Fixing the House bill: reducing air pollution by providing more travel options
March 13, 2012
By Stephen Lee Davis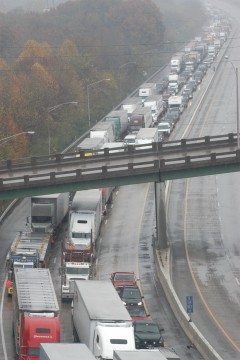 One of many issues that need to be fixed in the House's transportation bill is a plan to allow transportation money in a pollution-control fund to be used on new roadways for solo drivers. In 1991, Congress created a small program dedicated solely to helping communities deal with the negative side effects of over-reliance on major roads for rush-hour travel. A provision in the House's transportation bill opens that fund to construction of regular highway lanes.