Stories tagged with
buses
Click on a story title to read that post. Posts are ordered chronologically from newest to oldest.
Saving a transit system and turning the tide for the future of a mid-sized city
May 15, 2012
By Stephen Lee Davis
Last month, the citizens of Baton Rouge, LA, voted to raise their taxes to preserve and expand their struggling bus system. To pass it, churches, faith-based groups and local organizers teamed up with businesses and institutions. As we've seen in similar local measures, they won by explaining exactly what taxpayer money would buy, building a diverse coalition and getting out the vote.
What's the best bus route in the country? Is yours tops?
November 9, 2010
By Stephen Lee Davis
Our friends at GOOD Magazine are holding a contest in partnership with Transportation Alternatives to find the most-loved bus routes in the country. Check out the contest details below and send in your photo today for a chance at some pretty cool prizes: …buses are an essential form of transit in cities across the country, [...]
Orlando's LYMMO bus service will extend to low-income and underserved Parramore area (TIGER Series)
November 8, 2010
By Sean Barry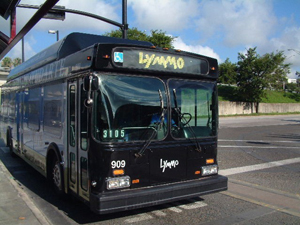 A TIGER grant in Orlando, Florida will help extend a popular circulator bus transit service into a historically underserved neighborhood, connecting more residents to jobs and opportunities and helping to bridge the divide in the city caused by Interstate 4.
Atlanta-area transit system 14 days from shutting down, 2 million rides disappearing
March 17, 2010
By Stephen Lee Davis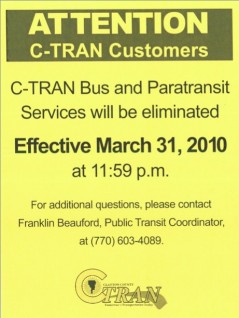 Clayton County, one of metro Atlanta's five core counties, will terminate all transit service in 14 days. The transit service, which provides over 2 million rides each year on buses "full to bursting" with riders, according to MARTA CEO Beverly Scott, will shut down service entirely, leaving the 50% or more of C-Tran riders with no regular access to a car stranded.
Debate panelists split over buses, broader impact of transit investments
December 16, 2009
By Sean Barry
Monday's online debate on conservatives and public transportation was billed as a back-and-forth on why the ideological right should embrace public transportation. While differences persisted between our conservative and libertarian panelists about the impact of transit investments, another schism developed over how big a role buses should play.
Last week's elections a net plus for public transportation
November 12, 2009
By Sean Barry
Last Tuesday's election results were a win for public transit, although high-profile state and national races stole most of the headlines. According to the Center for Transportation Excellence, 72 percent of transportation ballot measures received voter approval on November 3. November's ballot included seven measures in five states – Colorado, Indiana, Maine, Michigan and Ohio. [...]
California Supreme Court hands victory to local transit riders and providers
October 5, 2009
By Sean Barry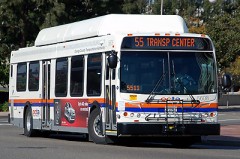 A recent California Supreme Court decision could restore billions in funding for public transportation in the nation's most populous state. The Court's ruling late last week upheld a lower court decision declaring the state's $3.6 billion raid of public transit funds illegal and ordered that the money be returned to local transit providers.
The importance of a complete transportation system
May 6, 2009
By Stephen Lee Davis
…Glennis was expected at work at 7:00. It was 6:25, and she had been waiting at the stop for 30 minutes when I showed up. Glennis told me that once she got off at Santa Monica Blvd, she would still have about one mile to walk to get to her job. Her chances of getting there on time were looking pretty slim at that moment, and I could see the worry mounting on her face.
School Buses: Still Vehicles for Change
October 9, 2008
By Andrew Bielak
Decades after school buses became a symbol for educational integration, high fuel costs and shrinking budgets are causing school districts to make cutbacks in bus service — and pushing children to attend school closer to home. (Wall Street Journal — Robert Tomsho)
Going up, going down — mass transit's fine mess
October 6, 2008
By Andrew Bielak
The Indianapolis Star looks at the city's plans to increase bus fares and reduce service, criticizing the fact that "the nation's 12th-largest city has allowed the core of its mass transit system to dwindle to 99th in size."