Posts Tagged "bill shuster"
The House Transportation and Infrastructure Committee today released a long-awaited update to the Passenger Rail Investment and Improvement Act, the law that funds passenger rail. James Corless, director of Transportation for America, issued this statement in response:
As we noted in our statement after the State of the Union address Tuesday night, it was good to hear the President again cite the need to steer new revenue toward "rebuilding our roads, upgrading our ports, unclogging our commutes". He didn't say much beyond that, of course, but given other developments in the background, we have reason to be somewhat encouraged.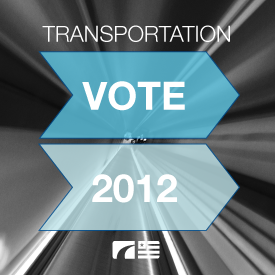 Though some pieces have fallen into place – including a decision on who will lead the House's key transportation committee for the next two years — the 2012 election still leaves a number of key questions hanging in the balance. We've looked at a few local transportation ballot measures, but what will the impact be on transportation at the federal level as a result of the 2012 elections?