The Fix We're In For:
The State of Our Bridges
Iowa Bridges
State rank

3 of 51

Total bridges

24,722

Average age

42 years

Structurally deficient:

5,371

Percent deficient:

21.7%
| Best Counties | Deficient |
| --- | --- |
| Dubuque County | 6.7% |
| Linn County | 5.6% |
| Osceola County | 5.3% |
| Jackson County | 4.2% |
| Clinton County | 3.7% |
| Worst Counties | Deficient |
| --- | --- |
| Adams County | 46.5% |
| Winnebago County | 44.1% |
| Davis County | 43.3% |
| Lucas County | 38.9% |
| Plymouth County | 38.9% |
Iowa State Report
Print/Download
Deficient Bridges
25%+
22-25%
17-22%
12-17%
7-12%
0-7%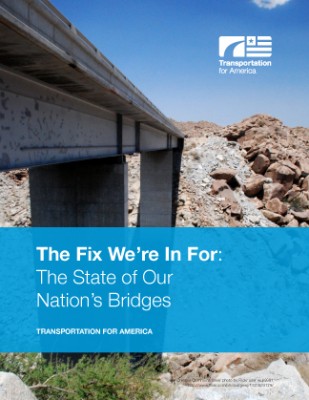 The Fix We're In For national report includes a summary of the problem, recommendations that could help reduce the alarming repair backlog, and the full battery of data, including the worst 100 counties and the two busiest structurally deficient bridges in each state.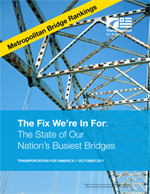 This new report and its rankings look at the problem from a metropolitan perspective. Bridges in metro areas carry a disproportionate share of all trips on deficient bridges — the largest 102 metro areas carry 75 percent of all traffic crossing a deficient bridge each day.
The State of Our Nation's Bridges
Despite billions of dollars in federal, state and local funds directed toward the maintenance of existing bridges, 68,842 bridges — 11.5 percent of total highway bridges in the U.S. — are classified as "structurally deficient," requiring significant maintenance, rehabilitation or replacement.
Two key problems persist: while Congress has repeatedly declared bridge safety a national priority, existing federal programs don't ensure that aging bridges actually get fixed; and the current level of investment is nowhere near what is needed to keep up with our rapidly growing backlog of aging bridges.
Learn More About Our Bridge Backlog
Did you know that states can transfer up to half of their federal money dedicated to bridge repair to other projects, no questions asked? Learn more about our bridges — and what we can do to start fixing them.
Tell Congress: Fix It!
America's transportation system is broken. Bridges are crumbling, commute times are longer than ever, and too few people have access to good options. It's past time to fix it.
Add your name to the growing list of Americans calling on Congress to fix it for America and give us safe, affordable and timely transportation options that we need