States that raised revenue from 2012-2014
Click to jump to the details on that state's plan.
Arkansas (2012)
Delaware (2014)
Florida (2014)
Maryland (2013)
Massachusetts (2013)
New Hampshire (2014)
Ohio (2013)
Pennsylvania (2013)
Rhode Island (2014)
Vermont (2013)
Virginia (2013)
Wyoming (2013)

Transportation Vote 2014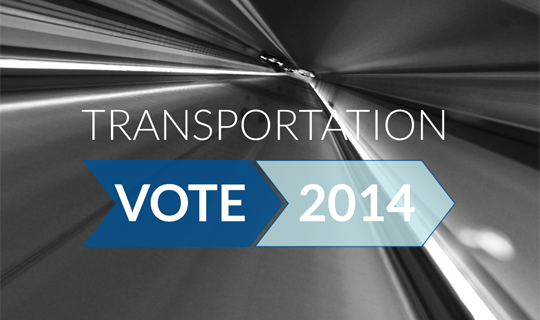 This November a handful of measures and races will be decided at ballot boxes across the country related to new revenue for transportation at the local or state level. Read more about a few of the important issues we'll be keeping an eye on.
Does raising taxes for transportation = political suicide?
Not exactly. In at least five states where legislators raised gas taxes or other fees in the last few years to raise transportation revenue, voters have responded by sending almost all of the supportive members of both parties back to their state houses. Could it be that voters are more supportive of raising revenue than we think? Click here or on the graphic above to see our work chronicling the votes on these pieces of state legislation, and data on how the supportive politicians fared in their next primary.


Enacted and attempted state legislation to raise transportation revenue
Click a tab to see details on the plans that have been enacted, or details on recently considered legislative plans.
Below this map are the details on the successfully enacted legislative plans that raised revenues at the state level from 2012-2014. Plans that merely move money around, authorize a general fund transfer, or increase bonding authority are generally not included here — this only charts new revenue for transportation, not spending. Note: states have varying schedules for their legislative sessions. *This list does not include states that passed bills enabling certain localities to raise their own revenues for transportation. For more info on these states that have passed "enabling legislation" see this short primer on enabling legislation that includes a map, from our Measuring Up package.

Arkansas
Enacted – Constitutional amendment passed by legislature (HJR 1001) in 2011; passed by voters in November 2012.
The state can issue $1.3 billion in new general obligation bonds, mostly for a 4-lane state highway network. A portion of these revenues will be given to city and county governments to repair rural and local roads. The voters approved an increase in the statewide sales tax (half a penny) to repay the bonding. Bonds must be repaid in 10 years at which time the sales tax is rescinded. Intended for roads, and specifically a four-lane state highway network.
Delaware
Enacted — Increase in tolls
Tolls on State Route 1 were raised by $1 on weekends, which will generate $20 million annually. The new funds will avoid cuts for the Community Transportation Fund which pay for local transportation projects, and will help raise revenue for road maintenance. Intended for state highways, road maintenance.
Florida
Enacted – HB 7175 was enacted in 2014
This broad transportation package includes new revenue from leasing right-of-way for cell phone towers near state roads and advertisements on state nature and recreational trails. It also calls for more toll roads. Intended for roads, and an increase of maintenance revenue.  (Ch. 2014-223, L.O.F of HB 7175)
Maryland
Ch. 429 (HB 1515) enacted in 2013
This will raise $4.4 billion over six years, which includes borrowing ability against future revenues. It would:
Index the gas tax to inflation starting immediately (with a ceiling of no more than 8% in any given year.)
Add a 3 percent sales tax at the pump, phased in over a period of three years starting summer 2013.
Requires indexing transit fares charged by the MTA to inflation via the consumer price index.
The sales tax on gasoline will increase to 4% if the congressional ban on internet sales tax is lifted, otherwise, the tax goes up 5% if Congress does not lift the ban
Modes aren't defined, but it does fund the unified state transportation trust fund which funds ALL modes.
Read our detailed post on the details in Maryland's plan.
Massachusetts
Chapter 46 of Acts of 2013 (H3535) enacted in 2013. (Proposal started with the Governor, legislature responded, governor vetoed, legislature overrode that veto)
Raises the gas tax 3 cents and indexes it to inflation
Requires MassDOT and MBTA to raise a greater portion of their costs—up to an additional $229 million per year—from tolls, fees, fares and other sources and from efficiencies
Dedicates other state funds—including all proceeds from vehicle sales taxes—to transportation
Increases taxes on cigarettes and tobacco products
Don't miss our longer post on the proposals in Massachusetts.
New Hampshire
S.B. 367-FN-A enacted in 2013. Ch. 268 (HB 1142) enacted in 2014
SB 367 increases the per gallon tax by 4 cents. The funds raised are dedicated to rehabilitation and bridge repair projects for the next two years. It also adds bonds for the widening of I-93.
HB 1142 extends fuel taxes to fuels used by alternative fuel vehicles. 
Ohio
HB 59 enacted in 2013. Ohio Turnpike Authority will begin raising tolls Jan. 1, 2014
Biennial state transportation budget: A plan that would authorize the Ohio Turnpike Authority to issue $1.5 billion in new debt over 6 years to finance (roads-only) projects around the state. The debt would be repaid with increased turnpike tolls, and a large share of funds will be spent in Northern Ohio. (Though debts would be repaid with greater turnpike tolls, tolls for locals will be frozen for the next ten years. EZ pass transponder required.)
Pennsylvania
Act 89 (HB 1060) enacted November 25, 2013

When fully implemented:
Raises an additional $2.3 billion per year, including $1.65 billion for highways and $476 million for transit
Establishes a first-of-its-kind, $144-million-per-year Multimodal Transportation Fund for local economic development
Will allocate an additional $220 million to local governments (a 60% increase)
Eliminates the per-gallon gas tax
Increases the sales tax on gas assessed at the wholesale level (by gradually eliminating the cap on taxable value and replacing it with a floor)
Increases vehicle registration, licensing and truck weight fees and moving violation fines
Rhode Island
H 7133 A enacted in 2014
H7133 directs revenues from vehicle fees and rental car taxes to the state highway maintenance fund, increases the gas tax by approximately one cent in 2015 and sets it to inflation for future years, and calls for a statewide referendum to approve issuing $35 million in bonds to fund multi-modal transit hub infrastructure. (This referendum is currently slated to appear on the ballot in November 2014.)
Vermont
Act 12 [H.510] enacted in 2013
Governor's budget bill raises $28 million annually by adding new 2% sales tax assessment to gasoline, reducing gas tax from 20 cents to 19.2 cents and issuing a $9 mil. bond to be repaid with existing revenues. Passed through a transportation budget bill, goes into effect on May 1, 2013. Diesel per gallon tax will rise three cents over two years, starting July 1.
Virginia
Ch. 766 (HB 2313) enacted in 2013
Multimodal
$3.5 billion over five years
Sales taxes: Directs .175% of existing sales tax revenues to transportation; raises sales tax by .3% with 1.25% of the increase dedicated to transit and passenger rail. (Statewide sales tax increases from 5% to 5.3%)
Local taxes: Imposes mandatory taxes in two regions: in Northern Virginia, increases sales tax by .7% and adds 15 cent per $100 assessed value to real estate transfer tax along with a 2% increase in hotel tax); in Hampton Roads it increases sales tax by .7% and adds a 2.1% wholesale tax on gasoline
Gas tax: Eliminates the cents per gallon tax on gasoline and diesel; adds a 3.5% wholesale tax on gasoline and 6% on diesel (wholesale tax increases by 1.6% in 2015 if the Internet sales tax ban is not lifted)
Vehicle fees: Adds a $64 fee on hybrid vehicles and raises the motor vehicle sales and use tax by 1.15%
Other fees: Direct a portion of internet sales tax receipts to transportation if Congressional ban is lifted, which would raise $1.13 billion over five years
Wyoming
Act 38 (HB 0069) enacted in 2013
Raise $70 million annually by increasing the gas tax ten cents per gallon. Intended for highways only.
Here are the details for legislative plans to raise transportation revenue most recently considered in the 2013-2014 sessions. Details on the plans from previous sessions are generally not included here. Note: states have varying schedules for their legislative sessions. Some wrap around the year, and in some states, they begin new sessions on the calendar year or do all business in just a few months each year.
Legislation attempted in the 2013-2014 sessions to raise revenue
Alaska
HJR 10 passed the House on 3/13/14, and then died in the Senate. All other proposals in the 2013-2014 session died before passage
HJR 10: Creates a dedicated multimodal transportation fund. (Link)
HB 122: Would appropriate $2 billion to the newly created transportation fund. (Link)
HB 123: Creates a project selection panels to review transportation projects and recommend projects to be funded by the newly-created transportation fund. (Link)
Last updated: 9/4/14
Colorado
H.B. 14-1259 died in the 2013-2014 session before passage
H.B. 14-1259: Would transfer $100 million from the general fund to the state highway fund. Transferred funds would be dedicated to "maintenance, repair, reconstruction, and replacement of existing state highways and bridges." (Link)
Last updated: 9/4/14
Connecticut
Was passed out of Joint Transportation Committee 3/14/14. S.J. 23 died in the 2013-2014 session before passage.
S.J. 23: Would dedicate money in the state multimodal Special Transportation Fund to transportation projects by prohibiting transfers for purposes unrelated to transportation. (Link)
Last Updated: 9/4/14
Delaware
Governor's proposal in the 2013-2014 session died before passage
Proposed by Governor: Governor Markell had proposed a 10 cent per gallon tax increase, raising $50 million per year for the transportation fund. He proposed coupling this funding increase with $50 million per year in additional borrowing to accelerate projects. He also proposed indexing the gas tax to inflation. This proposal followed his recommendations of a 2011 bipartisan task force report, according to the Governor. (Link)
Last Updated: 9/4/14
Idaho
All proposals in the 2013-2014 session died before passage
Several marker funding bills were introduced in the 2013 legislative session seeking to raise revenue-up to $237 million per year – through combinations of increased general sales taxes, fuel taxes, registration fees, and new fees or taxes on hybrid vehicles, tires and rental cars.
H 337: Would add a 1% general sales tax dedicated to transportation. (Link)
H 338: Would gradually increase the per-gallon tax to 40 cents, add a 4 cents per gallon wholesale fuel tax, and increase registration and weight fees. (Link)
H 339: Would direct sales tax revenues from tires, batteries, and car accessories sales to the state highway fund. (Link)
Last Updated: 9/4/14
Iowa
House Transportation Subcommittee approved the HSB 514 1/30/14. All proposals in the 2013-2014 session died before passage
HSB 514: Would increase the gas tax by 10 cents per gallon, with progressive annual increases. The tax is projected to bring in $230 million per year, just enough to cover the state's annual $215 million transportation shortfall. (Link)
SF 2068: Would automatically index the gas tax to inflation by scaling rates annually to the average consumer price index. (Link)
Last Updated: 9/4/14
Kentucky
Gas tax provision amended out of the final bill (H.B. 445) in 2013
H.B. 445 attempted to change the wholesale tax floor for gasoline.
Michigan
Package of legislation introduced (S.B. 6, H.B. 4630, H.B. 4925, H.B. 5452, H.B. 5453, H.B. 5459, H.B. 5477), most of which are still pending in session.
S.B. 6 (Pending)
Would dedicate 12% of the state's sales tax collected on motor fuel sales to the state's transportation fund.
This would raise an estimated $125 million from the general fund to the transportation fund.
2014 House Legislation (Pending — all have passed the House)
Total revenue is an estimated $495 million by the fiscal year 2018
HB 4630: Would increase several vehicle fees and taxes. Revenues from these fees are constitutionally dedicated to transportation purposes.
HB 4925: Would expand authorization for the Department of Transportation to enter public-private partnerships. It would also allow for the issuance of revenue bonds and allow tolling or user charges on new capacity constructed through public-private arrangements.
HB 5452: Would increase overweight permit fees. This funding would be dedicated to the state trunkline highway fund.
HB 5453: Would increase overweight and over-height vehicle fines. Half of this revenue would be dedicated to funding state and local highways.
HB 5459: Would dedicate revenues from a 4% sales tax on motor fuels to the state transportation fund. These funds would be distributed to the state, counties, and municipalities. It would not be distributed to transit agencies.
HB 5477: Would change the fixed, cents per gallon fuel tax to a percentage sales tax on fuel, which would be adjusted annually. The annual increase would be capped to be not more than one cent, five percent, or the rate of inflation. The new gas and diesel rate would be six percent of the average wholesale price.
Governor's budget (Enacted) 
Approved $215 million in one-time transportation funding
$100 million of that will go to local governments for supplemental repair
$115 million is dedicated to major state infrastructure projects
Last updated: 8/11/14
Minnesota
SF 2107 died in the 2013-2014 session before passage.
SF 2107: Would raise new revenues for transportation from several sources. It would establish a 5% wholesale gas tax. It would adjust a sales tax and impose a vehicle sales excise tax in the Twin Cities metro area to fund regional transit expansion and operation. The bill would dedicate $2 billion from bond sales to statewide transportation programs over the next four years. It would also adjust a metropolitan competitive grant program in the Twin Cities metro area to include grants to municipalities for regional trails, safe routes to schools, streetcars, and planning and enacting a transportation alternatives competitive grant program for greater Minnesota. (Link)
Last Updated: 9/4/14
Mississippi
A Senate designated task force — Completed
A Senate designated task force determined that the state needed more revenue for transportation, but did not identify a funding source. It also recommended further study.
Last updated: 8/11/14
Missouri
Voter referendum created by HJR68 failed at the ballot
HJR 68: Would add a ¾% sales tax to be dedicated to transportation. Five percent of the new revenues would be directed to counties on a formula based on road miles. Another five percent of new revenues would be directed to municipalities on a formula based on population. The remaining 90% would go directly to the transportation commission for multimodal construction. The measure would need to be approved by voters statewide. (Link)
Nebraska
LB 1092 died in the 2013-2014 session before passage
LB 1092: Would allow a portion of the sales tax funds which are dedicated for highway construction to be bonded against, accelerating project construction. The bill would not increase revenues. (Link)
Last updated: 9/4/14
New Jersey
A801 (a study) passed the Assembly. Bills S1865, S1896, and S2051 are all pending

A801 Would direct turnpike authorities to study additional revenue options from expanded services, communication towers, and advertising at rest areas
S1896 Would increase the gas and diesel taxes by 5 cents per year for the next three years
S1896 Would legalize marijuana, levy a sales tax on marijuana purchases, and dedicate 70% of the tax revenue generated from the sales to the state transportation fund for construction of transportation projects.
S2015 Would change the fixed cents per gallon tax to a variable tax on the average retail price of gas.
Last updated: 8/11/14
New Mexico
All proposals in the 2013-2014 session died before passage
HB 74: Would increase the gas tax by five cents per gallon for ten years, raising an estimated $70 million per year. It would authorize the state transportation commission to bond up to $300 million for an earmarked list of highway projects. (Link)
SB 228: Would increase the gas tax by a total of 13 cents between 2019 and 2024. Beginning in 2024, the gas tax rate would be adjusted annually based on the rate of inflation. The bill also increases the portion of state gas tax revenues distributed to local governments. (Link)
Last updated: 9/4/14
Rhode Island
SB 2335 died in the 2013-2014 session before passage
SB 2335: Would set aside 1.5% of the state's annual appropriations for transportation and dedicate an additional 0.5% of state funding to transit. A bond issue would be put to voters in November 2014 to approve additional transportation funding. The new transportation fund would also collect 0.125% of the state general sales tax if sales tax collection from online sellers were enacted. The act would also create a study committee to review gas tax revenues and alternative funding sources. (Link)
Last updated: 9/4/14
South Carolina
H 3412 passed the House on 2/27/13. All proposals in the 2013-2014 session died before passage
Last updated: 9/4/14
South Dakota
All proposals in the 2013-2014 session died before passage
HB 1230: Would allow counties to raise property taxes to fund transportation. It would remove an existing provision that such county revenues can be used only to match federal transportation dollars. (Link)
SB 111: Would allow counties more leeway in increasing property taxes, allowing increases with inflation up to 4% annually. (Link)
Study: A legislative summer study commission will review short- and long-term funding for transportation.
Last updated: 9/4/14
Utah
All proposed bills died before passage
HB 388: Would allow counties to impose an additional 0.25% local option sales tax to fund transportation. The local option tax would have to be put before voters to be approved. None of the additional tax authority could be used to fund rail capital or repay bonds for rail capital costs. (Link)
SB 60: Would reduce the gas tax from 24.5c per gallon to 14c per gallon while adding a 3.69% fuel tax (assessed on the average annual wholesale fuel cost). The bill sets a rate floor so the tax could not be less than the current 24.5c excise tax. (Link)
HB 240: Would increase the gas tax by 7.5c per gallon. It also increases the per-gallon-equivalent tax for natural gas vehicles. (Link)
Washington
HB 1954 failed on first vote, but passed upon reconsideration. Currently pending in Senate committee
House Bill 1954
Multimodal
No revenue targets.
Local taxes: Counties authorized to add $40 vehicle license fee. 0.7% motor vehicle excise tax in King County. 0.7% motor vehicle excise tax to support Community Transit in Snohomish County. Allow voter-approved enhancement "subzones" to fund transit; and allow cities to level between 1-3 cents in gas taxes on top of state level
Gas taxes: 10 cent per gallon increase in gas tax with a portion allocated directly to cities and counties
Vehicle fees: 0.7% increase in motor vehicle excise tax (MVET) a portion of which would go to transit agencies, cities, and counties across the state. A 15% increase in weight fees on large trucks; increase certain vehicle fees
Other: $25 fee on the purchase of premium bicycles to fund complete streets programs
Last updated: 4/19/13