Transportation for America is delighted to partner with LA CoMotion, a unique five-day event bringing together the global leaders of the urban mobility revolution this November.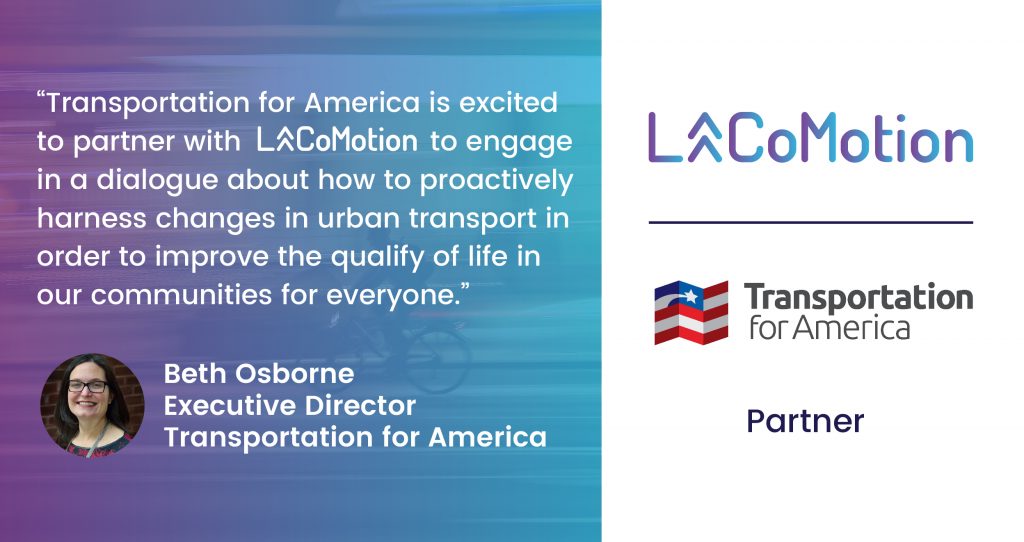 The first edition of LA CoMotion takes place in Downtown Los Angeles' vibrant Arts District from November 15th through 19th, 2017. The immersive event features cutting-edge discussions, demos, test drives and exhibitions – an exciting glimpse into our urban future. 
John Rossant, Founder and Chief Curator of LA CoMotion said:
"The urban mobility revolution is set to transform every city in the world. Robust urban transport is indispensable to making cities more inclusive, connected, healthy and vibrant. LA CoMotion is pleased to partner with Transportation for America, an alliance of community leaders working to build stronger economies through better transportation networks. We look forward to working with T4America to deploy mobility solutions for all communities, large and small."
LA CoMotion will also dovetail with the next meeting of our Smart Cities Collaborative, which we'll be hosting in Downtown Los Angeles, November 14th and 15th. 
This meeting will close out the first year of our Collaborative. As they have throughout the past year, participant cities will collaborate to develop policies and projects enabling them to test and pilot automated vehicles, shared mobility and other emerging technologies. Additionally, cities will explore innovative procurement and contracting models, how best to partner with private mobility and data providers, and will work together to create state level policy frameworks in preparation for the upcoming 2018 legislative sessions across the country.
We're looking forward to our partnership with LA CoMotion and to an inspiring week of dynamic conversations around the future of smart mobility this November. 
Friends and members of Transportation for America can request a special discount code for LA CoMotion here.