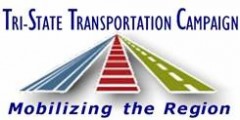 Complete streets legislation passed both the New York State Senate and Assembly unanimously this week and awaits Governor Andrew Cuomo's signature.
Once the legislation becomes law as expected, New York State will follow in the footsteps of hundreds of other states and municipalities that have already started prioritizing the needs of all users on their roads, whether on foot, bicycle, in a wheelchair, or using a personal vehicle or public transit.
The Tri-State Transportation Campaign, a T4 partner in New York, New Jersey and Connecticut, played a pivotal role in pushing the bill, which was sponsored in its latest iteration by Republican Senator Charles J. Fuschillo, the chairman of the chamber's transportation committee. The New York AARP was also closely involved in securing passage.
"Everyone knew that somethin

g had to be done, so the political will was there," the state AARP's legislative director Bill Ferris told Streetsblog New York City.
A national complete streets policy was a key recommendation of our recent Dangerous by Design 2011 report, which documented the more than 47,700 preventable pedestrian deaths in the Untied States between 2000 and 2009. These tragic deaths are too often treated as a fact of life, when we've built roadways more suited to speeding traffic than people. Complete streets policies, like the one passed in New York State, make streets safer for all users, no matter their mode of transport.
As Tri-State Transportation Campaign's executive director Kate Slevin said earlier this year, "We've repeatedly found that what makes a road dangerous is poor design — exactly what a state complete streets law will fix."
The unanimity in this week's roll call votes was impressive and significant, but did not come without some legislative maneuvering. As Jim O'Grady of WNYC described it:
Some highway superintendents complained about the cost of adding bike lanes and similar features to road projects. So the bill was changed in a late negotiation to require them in the design phase, while making their implementation optional if they'd put a project over budget. A town or county cannot be sued if it chooses not to install complete street features for budgetary reasons.
This bipartisan victory in one of the nation's largest states should catch the attention of Congress — which has its own complete streets bills in the hopper — as members draft priorities for the next transportation bill. Tell your representative to support Complete Streets and stop preventable pedestrian deaths today.