Chattanooga's SmartBus project has produced significant savings and made buying tickets and finding buses easier than ever.
The Chattanooga Area Regional Transportation Authority's SmartBus Project uses technology to make public transportation more user-friendly and reliable. The project involves an array of innovations that are being gradually rolled out over the course of several years.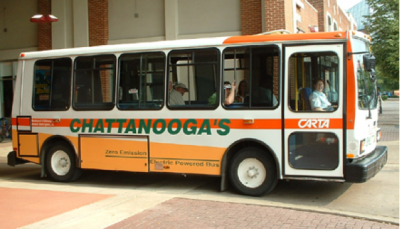 Chattanooga, a city of about 170,000 people with about 500,000 in the metropolitan area, is served by 16 fixed route bus lines, curb-to-curb transit for people with disabilities, a free electric shuttle in the downtown area and an incline railway up historic Lookout Mountain. The regional transportation authority also owns and operates several parking garages and manages most on-street parking in downtown.
Since 2004, this moderate-sized transit agency has made the transition from an organization that made limited use of technology to one in which technology is an integral part of its operations.
"Having the data we need to support business decisions means we can effect necessary changes more quickly, making us more agile and efficient in an increasingly challenging budget environment," Tom Dugan, executive director of the transit authority, told Mass Transit Magazine.
Some of the improvements currently underway or in the pipeline include;
Data warehousing and reporting software to better handle data on the operations of the transit system.
New operations management software to support fixed-route scheduling and demand response scheduling and dispatch.
Ticket vending machines for the Incline Railway.
Connections to CARTA vehicles via cell phone networks and wireless public
Internet access on CARTA buses.
A next stop automated announcement system that provides riders with a real-time estimate for the next bus arrival, as well as a website with real-time tracking.
Better revenue management systems.
Automatic Passenger Counters.
Bus security systems, such as a covert alarm and on-board video surveillance.
Implementation of the scheduling software has minimized operating costs while ensuring compliance with labor laws and transit agency policies. The agency has also saved at least 60 hours per week in operator labor as result of the new technologies.
For More Information: A Case Study on Applying the Systems Engineering Approach: Best Practices and Lessons Learned from the Chattanooga SmartBus Project. November 2009 http://ntl.bts.gov/lib/32000/32900/32928/ exec_sum.htm
—-
Editor's Note: Our new report on smarter mobility demonstrates how existing and emerging technologies can squeeze more capacity from over-burdened highways, help commuters avoid traffic delays and expand and improve transportation options, all while saving money and creating jobs. Many of these smart transportation solutions are already fueling innovation throughout the country, through both the public and private sector. These 14 case studies from around the U.S. and the world demonstrate the community benefits smart mobility solutions are giving regions, cities, and businesses.