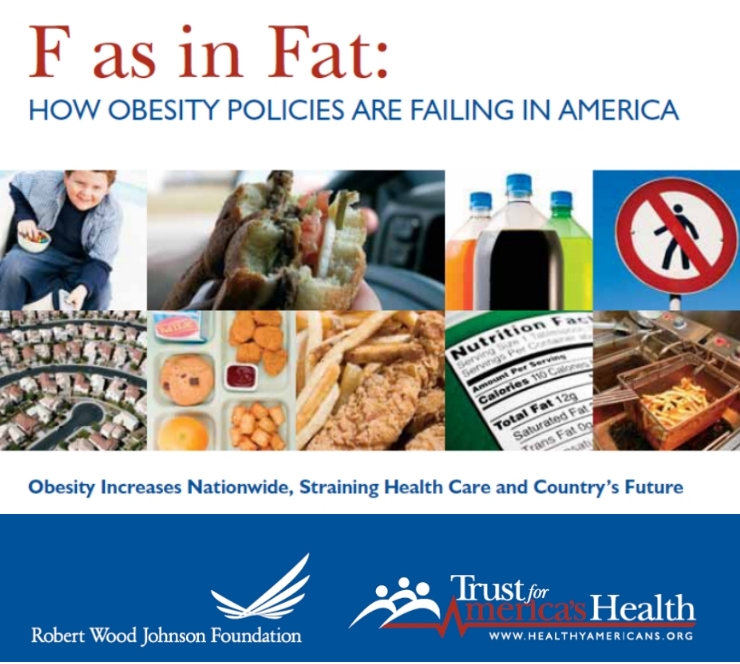 Obesity is on the rise in 28 states and is one of the biggest public health challenges facing America, but taking some concrete steps to boost walking and biking and invest in more active modes of transportation all across America could be a major factor in turning the tide.
That is the conclusion of F as in Fat: How Obesity Threatens America's Future 2010, a new report sponsored by the Trust for America's Health and the Robert Wood Johnson Foundation.
Most striking about the report are the persistent demographic and geographic disparities in obesity rates, as well as rising rates among children. One's zip code or income should never be the greatest determinant of health.
In 40 states and the District of Columbia, adult obesity rates were higher for blacks and Latinos than whites. The South was home to 10 out of the 11 states with highest obesity rates — Mississippi clocked in on top with 33.8 percent of adults considered obese. And, accounting for income, 35.3 percent of adults earning less than $15,000 per year were obese, as opposed to 24.5 percent of adults earning more than $50,000 per year.
Childhood obesity rates were up, but fluctuated by state, from just 10 percent in Wyoming to 21 percent in Kentucky. You can view a complete map with obesity rates in all 50 states and the district here.
The authors write:
Reversing the obesity epidemic will require individuals, families, schools, communities, businesses, government, and every other sector of American society to reduce the barriers to healthy eating and active living. Every American must have the chance to lead a healthy lifestyle.
F is for Fat's transportation plank calls for a bold and comprehensive reauthorization of the surface transportation law, similar to the draft proposal released by key House chairman Jim Oberstar last year. The report compels Congress to act on Complete Streets legislation to ensure that people who walk, bike and use transit can use roadways safely, and a reauthorization of the Safe Routes to School program, in hopes of reversing the trend of more and more kids getting driven to class each day.
The report also identifies three legislative vehicles for reorienting our transportation policy and increasing travel options.
The Active Communities Transportation Act would give cities and localities added funds for increasing walking and biking rates and making it safer. The National Transportation Objectives Act would attach safety, efficiency and economic competitiveness benchmarks to federal dollars, making our transportation spending much more accountable to the taxpayers. And the CLEAN TEA bill would cap greenhouse gas emissions and target revenue toward clean transportation projects that can get us where we need to go while reducing emissions at the same time.
As the report points out, we are already moving forward on a number of fronts and many policymakers get it.
The Patient Protection and Affordable Care Act of 2010 signed by President Obama earlier this year funds a number of wellness and prevention programs that have the potential to be expanded. A number of states have taken steps toward healthier school lunches, and Congress may act on legislation as well. And First Lady Michelle Obama's "Let's Move" campaign is calling attention to how we can ensure children live healthier lives, including through walking, bike and physical activity.
To view the entire report, you can visit the Trust for America's Health website here.