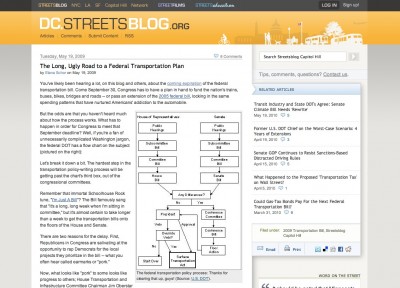 We noted this on twitter earlier today and yesterday, but we would be remiss if we didn't also say thank you to Elana Schor and Streetsblog for her terrific year of coverage on transportation issues under the Capitol dome and elsewhere in D.C circles.
She is departing Streetsblog Capitol Hill to write about environmental issues for E&E/Greenwire and has turned in her last story for Streetsblog.
We've all benefited from her tireless coverage of a complicated set of issues. Elana took great pains to make her subject un-complicated, understandable and relevant for people of all stripes, no matter their level of understanding of transportation policy — no easy feat! While we've certainly got our own ears to the ground, we knew that nothing important on the Hill was ever going to slip through the cracks on her watch, making Streetsblog DC a must-read site around the T4 America office each and every day.
On behalf of T4 America, we wish the best of luck to Elana Schor. You can still find her on twitter at @eschor, where she'll be tweeting about her new beat.