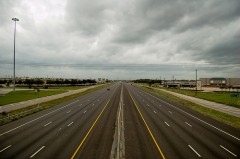 I-45 in Houston unusually empty after Hurricane Ike. From Flickr user codydildy
We wanted to highlight this piece from Reuters' Infrastructure Summit — especially an appearance by T4 America Partner The Citizens' Transportation Coalition. Chairwoman Robin Holzer and the CTC have been working hard to bring attention to one of the most wasteful projects receiving money from the stimulus, using it as one more example to show how "the federal transportation funding system is broken, it's just broken."
(Our good friends at Streetsblog just beat us to the punch and posted the story, so we'll summarize and point you there.)
While bridges crumble and roadways crack, and the poor state of our infrastructure far outweighs the amount of money we intend to spend on maintaining what we already have, we're sending $181 million in stimulus funds to Houston to build a section of a new outer loop highway (the outer outer outer outer loop, to be completely correct.)
In the piece, Robin Holzer discusses the waste of building an unneeded new highway — but more pointedly, how spending scarce federal funds on an unnecessary project will keep Houston from spending money where the investment (or repair) is needed the most.
From Ben Fried's post on Streetsblog:
Reuters just wrapped up a two-day "Infrastructure Summit" and published a great collection of stories about the state of transportation policy in the U.S. I especially like this piece, featuring Robin Holzer of the Houston-based Citizens' Transportation Coalition, who does a great job illustrating some of the major deficiencies that the federal stimulus bill failed to address:

Under the current system that U.S. President Barack Obama has maintained, at least for now, the U.S. government will pay as much as 80 percent of the multibillion dollar cost of a proposed 180-mile ring road around Houston — its fourth such loop — even though it serves a thinly populated rural area.

In contrast, an expansion of the city's light-rail system is only eligible for getting 50 percent of the cost paid by the federal government, she said.

Yet more than 147,000 people live within a half-mile of the ten stations on the light rail system, Holzer said.