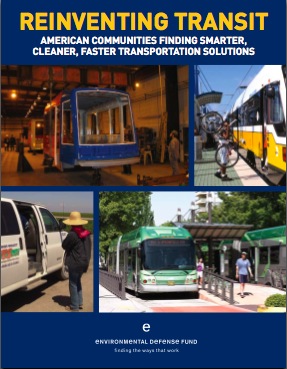 The Environmental Defense Fund held a news conference Thursday morning to release a new report profiling 10 innovative public transportation systems that are pushing beyond traditional ideas of transit, providing fast, clean and flexible service to help people get from A to B. Some special guests were invited, including transit supporter Rep. James Oberstar of Minnesota, who heads up the House committee responsible for writing the transportation bill this year.
So where was Rep. Oberstar when the press conference kicked off Thursday morning on Capitol Hill?
Stuck in gridlocked DC traffic, according to the Minneapolis Star-Tribune.
Once the strong sense of irony subsided, EDF carried on with the release of the report that profiles 11 systems from coast to coast that are "Reinventing Transit" by thinking outside the box to implement innovative service that can keep Americans moving.
Rep. Oberstar offered his strong support for the report in absentia.
Reinventing Transit makes the case that reinventing the transportation bill to fund transit innovations in Minnesota and nationwide will deliver new jobs, new connections to jobs and economic development for communities of all sizes. Given our economic and environmental challenges, 'business as usual' transportation investments are not good enough. Reinventing Transit sets the standard for transit investments in the upcoming transportation bill to fuel America's economic recovery.
Read more quotes from the guests and EDF in their press release.
Five of the systems profiled in detailed case studies have accompanying videos. The systems profiled span from coast to coast, and cities from small to large.
One system not profiled is Washington's own Metro, which keeps thousands of cars off the road each day, keeping that infamous DC traffic from being even worse. And Metro does have several stops near the Capitol. 🙂